Welcome - START HERE
Welcome - Structure & Tips for Success
Welcome to the Nursing Skills Refresh. I am one of your instructors, Kati Kleber. Below is a little bit more about myself and Jeannie, my co-teacher.
(If you are viewing this module as a free preview of the course, click here to enroll.)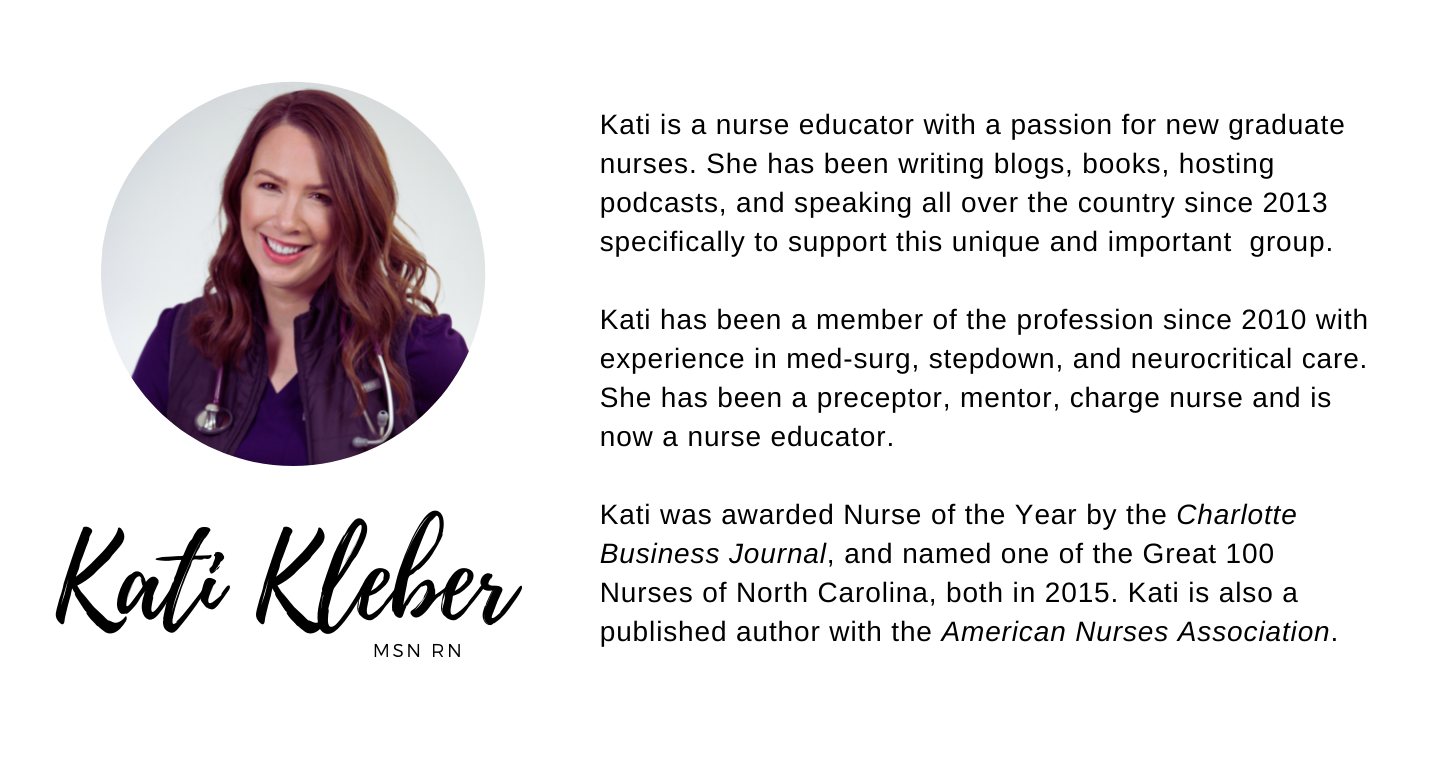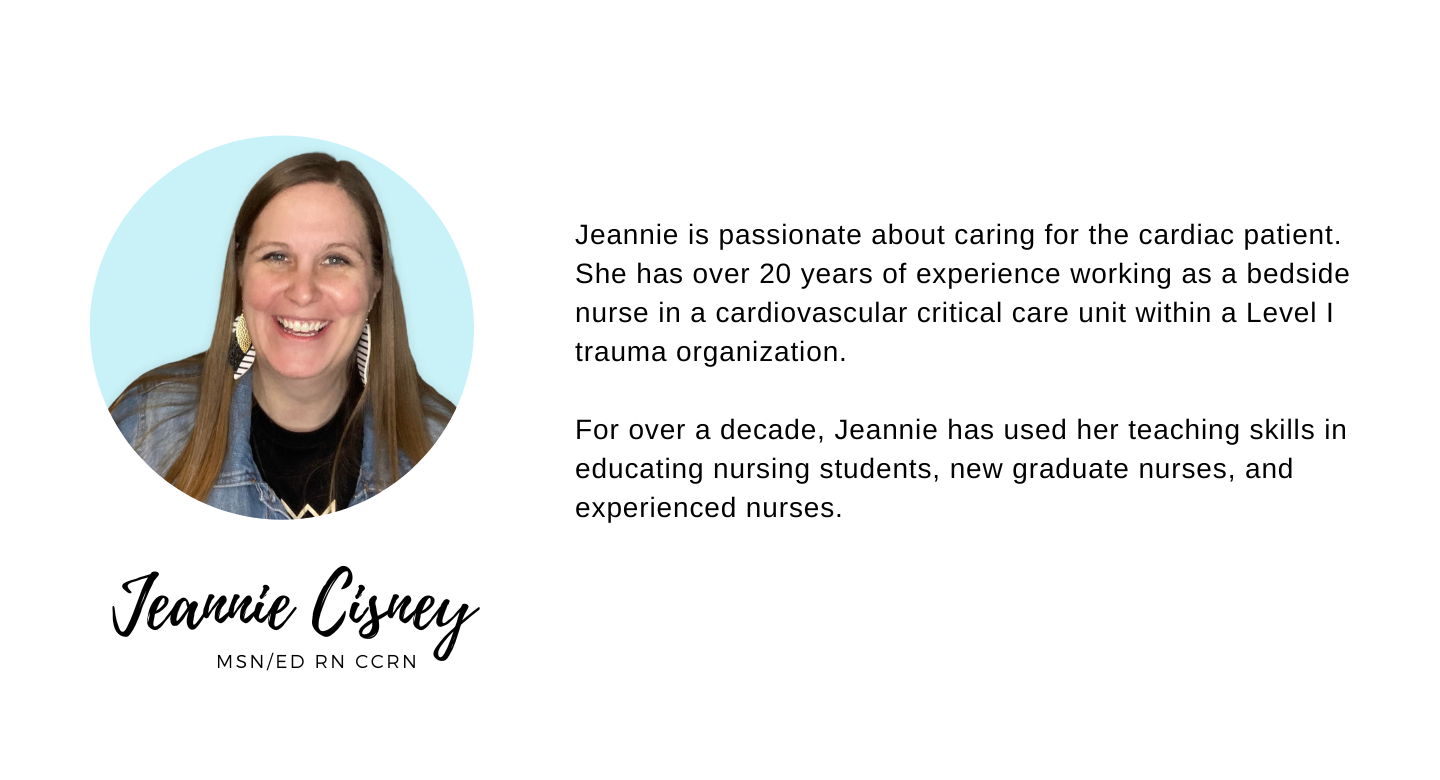 The Purpose of This Course
There are many skills you will need to master as a nurse. So many, in fact, that some can easily get glossed over. Everyone assumed someone else told you... or you did get an explanation, but it was subpar or it's been months/years since. This course will help you fill in the gaps! You can watch these videos as many times as you'd like. I recommend doing so before clinical so you can familiarize yourself with them before being at the bedside. Familiarity reduces anxiety which enables you to lean into learning with less stress and more focus.
Each module has a video and a transcript that goes with it. Feel free to print that and take notes on it. Feel free to watch in any order you'd like, but I highly recommend ensuring you watch all of them!

Helpful Info for Nursing Students
When you go to clinical, you'll have a clinical instructor with your group of 6-12 (ish) peers. This clinical instructor often does not work at the hospital, and is employed by your school. Your clinical group is in that nursing unit, but there to observe, help, and learn. The nursing staff on that unit will help as well, but your clinical instructor is your primary point of contact.
This can be tricky because your instructor doesn't normally work on the unit, so they may need to ask other nurses logistical questions about the unit. I promise your clinical instructor is knowledgeable, but may not know where every supply is or how they do certain things.
You may be assigned a patient to look up information on and assist the primary nurse with tasks, or your instructor may show you around first.
On the unit, there will be:
A charge nurse, who is overseeing the entire unit, who may or may not have patients themselves

Staff nurses, who will have a set of patients assigned to them

Nursing assistants, sometimes called CNAs or PCTs

Medical unit secretary
Those are the people who STAY on the unit. You will see others coming to the unit to see specific patients, like physicians, physical therapists, social workers, and more.
You will be working with 1 or more staff nurses as they provide care directly to patients.
Important point: The nurses on the unit don't typically know when students will be there, if their patients will be shared by a student, or have any heads-up about it at all. Some are great with students, but many are new and overwhelmed, but trying to save face. None of them are given any formal instruction on how to teach nursing students. Needless to say, you'll have some who are great teachers while others are very uncomfortable and don't know how to really approach it.
If you are assigned a patient, introduce yourself to the nurse and approach it from a perspective of, "How can I help you?" perspective, not with an attitude of, "Ok teach me everything" tone. They're often already overwhelmed and behind, and a brand new student with them will slow them down a bit, so I think it's just helpful to just be aware of that.
Once you get acclimated to the environment, you may be assigned a patient who will have a primary nurse. You'll do things like familiarize yourself with the medical record (these get pretty complex and extensive), basic care (that we'll go over in the course) and shadow the nurse to watch what they do.
You likely will arrive to your clinical after the shift has already begun. I do want to describe to you how a typical shift flows. First, the night shift nurses give report to the newly arrived day shift nurses around 7 am. The day shifters then go and meet all of their patients, look them over in a systematic manner from head to toe (called an assessment) give them their medications, and let them know what's going on for the day. Because day shift nurses have multiple patients, this process takes some time. They are often not done "rounding" on their patients until 10 or 10:30 am. Throughout this time, they respond to call bells, phone calls, changes in the plans for their patients, send patients to procedures and more. The beginning of the shift is the busiest. Around lunchtime, there are fewer meds to pass and it's more about getting lunch going, the meds associated with that, patients to/from procedures, and starting to discharge people. After lunch, discharges are leaving, admissions are arriving. The nurses are checking in on patients who are staying, completing necessary orders, procedures, and documentation.
You may arrive mid-morning med pass time, which is very busy. If you do, it's kind of like the scene from Finding Nemo when they have to just jump into the East Australian Current, the EAC, where they meet Crush and Squirt. It's like jumping on a moving train. If your nurse is hurrying, don't ask a million questions, simply observe, take note, be engaged, and be ready to help.
This course will prepare you so that you can jump in with those nurses right away and feel like you have an idea of what to do to be helpful ASAP. I want you to go from feeling like a burden to them to being an asset and major asset to them. And if you're their favorite student, they can be a wonderful reference when you begin your job hunt!
Contact
To get a hold of Kati or the customer service team, simply email us at [email protected]. We will get back to you in 1-2 business days. Please reach out to us with any needs! We will gladly help troubleshoot any issues.
Ownership
Copyright © 2023 Kleber Media LLC, all rights reserved.
Re-purposes or transmission in any form is not permitted without Kati Kleber and Kleber Media LLC's written permission. For inquiries or to report unauthorized use, please email the course administrator at [email protected].
All images have been either created and copyrighted by the author(s), purchased from Adobe Stock images or used under Creative Commons and credited appropriately. They may not be downloaded and used without written consent.
Hold Harmless
The information contained in this course is meant to supplement, not replace, your existing knowledge and is for informational purposes only. Always refer to your organization's policies and procedures, nursing state practice act, standards of care, and the American Nurses Association's Code of Ethics to guide your practice.
The views expressed are the authors and contributors and do not reflect the views of any current or former employers.
Any professional recommendations or statements are based upon opinion, and any actions taken are of your own free will. Should you choose to take action based upon content read in this course, you do so at your own risk and agree to hold the author and/or contributor(s) harmless.
Every possible effort is made to ensure these remain up to date. However, should a link no longer work, or if newer information, evidence, or best practices exist, we will not be held liable for any action taken based upon the content of the course. Again, any action taken is of your own free will, and by using this course, you agree to hold the authors harmless. The content is accurate at the time it was written to the best of our knowledge.
If a practice has been updated, please feel free to notify the FreshRN® team administrator at [email protected] to ensure we incorporate it into our subsequent update(s). Should any updates or content be added, there will be no additional charge to existing students. Once purchased, this includes lifetime access which includes all subsequent updates.
While this information may be applicable to healthcare settings worldwide, the content has been created specifically with the licensed nurse practicing in acute care in the United States of America. Laws and governing bodies differ widely throughout the world. This content does not attempt to comply with anything outside of the rules, regulations, and standards set forth by the governing bodies of the authors and reviewer/advisor (Illinois Department of Professional Regulation, Illinois Nurse Practice Act, Illinois Board of Nursing, National Council of State Boards of Nursing).
Patient Privacy
Throughout the course, examples are provided from the experience of the author and contributors. In these instances, identifying details of those involved have been changed to protect their privacy and remain compliant with the Health Insurance Portability and Accountability Act (HIPAA) of 1996.
Refund Policy
The following criteria must be met to obtain a refund:
● Refunds must be requested and issued within 14-days of purchase (please allow 2-3 business days for refunds to be processed)
● Less than 50% of the course has been completed
You do not need to provide a reason as to why you'd like a refund, although we greatly appreciate that feedback so we can know where we missed the mark!
Please note, if you notify us less than 72 hours before your 30-day window closes, we will be unable to issue the refund.
To request a refund
To request a refund, simply email us at [email protected] within the time frame and let us know! Please provide your name and the course you're requesting a refund for. We will first check that you qualify for one, and if you do, we will issue it within 2-3 business days. We appreciate you giving the course a shot!
Affiliate Links and Financial Disclosure
In this course, there are various links to recommended resources at the end of this course. Some of these links are affiliate links. Should you choose to make a purchase, Kati will earn a commission on that sale. That does not change the final price for you. Rather it works as a finder fee for Kati connecting consumers with helpful and valuable products. Kati only recommends products and services she personally uses and can attest to its value or that Kati took part in developing herself. None of the companies in which Kati mentions had any say or input on content within this course.
For more information on affiliate links, partnerships, and more, please click here.

Complete and Continue