I've been there. I get it.
I was asked to precept for the first time in 2011. I went to a 4 hour class about precepting that basically went over adult learning theory and that's it. My first preceptee was a brand new graduate. She was really nice, but I basically always gave very positive feedback - no matter what. My preceptee had no idea how she was actually doing because everything was "just fine" from my perspective. I'm sure she was intimidated because it was her very first job out of school and didn't feel like she could say anything.
Things wouldn't go well, but I didn't know how to communicate that less than positive information. Even when we had sit down meetings about not following up with certain assignments or performing poorly in serious situations, I put this ridiculously positive spin on it because I didn't know how to provide constructive feedback. 
Here I was… the experienced nurse, who somehow was supposed to intuitively transfer my skills as a nurse to teaching someone else. I wanted to be an amazing preceptor… but being a great nurse and a great preceptor are two different things.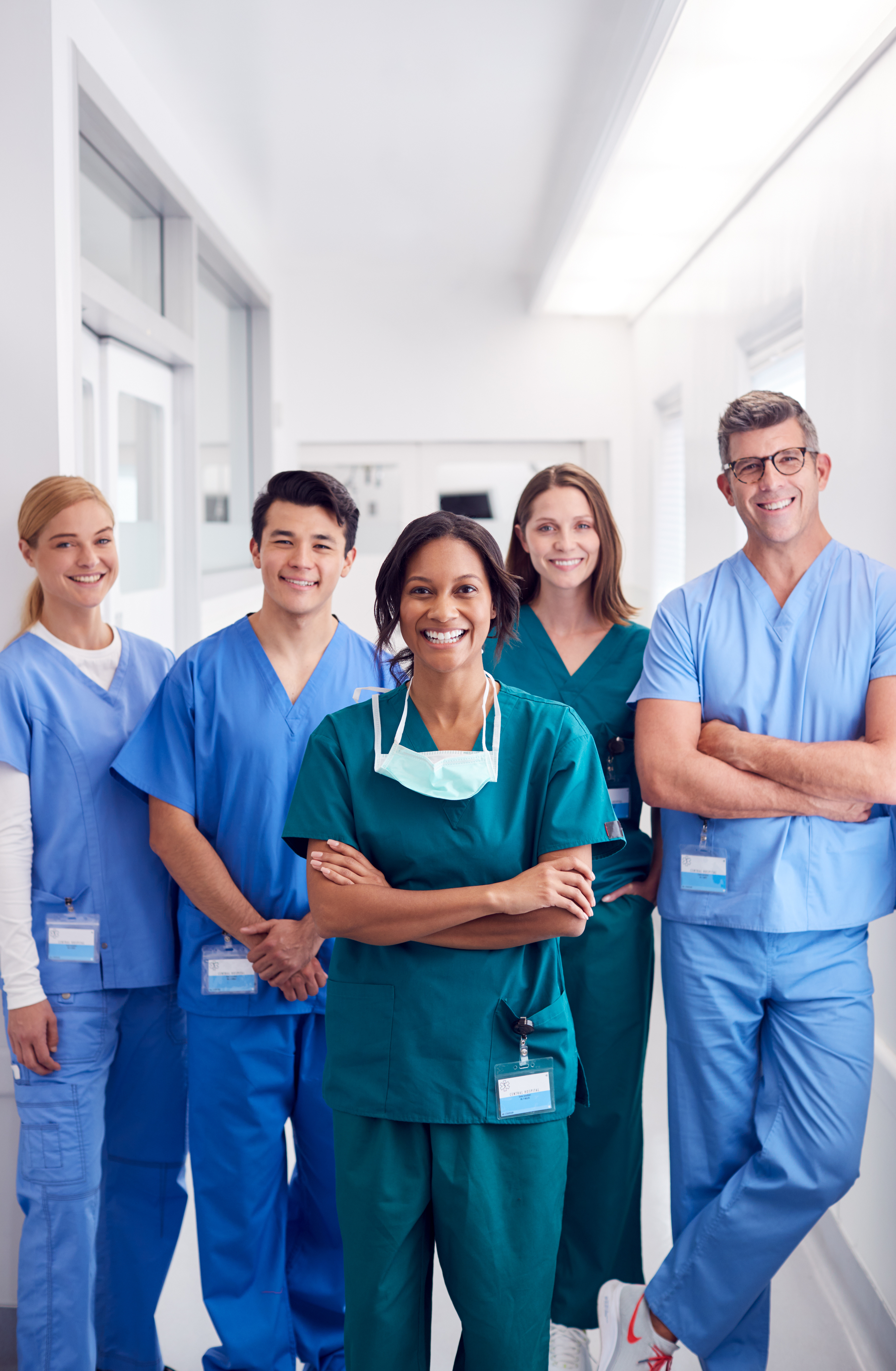 So… You Want to Be a Great Preceptor?
Maybe you want a new challenge… maybe you were "volun-told" to be a preceptor… or maybe you're considering becoming a preceptor and want to know what will be expected of you
I've been through hospital precepting classes.
You sit in a classroom and they tell you about adult learning theory… generational differences… competencies to check them off on… official paperwork…
But a lot of our burning questions are left unanswered.
How many patients should I start them off with?
What should my expectations be after week 2?
How do I actually teach time management?
How do I tell them they're doing something wrong in an authentic way without crushing morale?
How fast do I increase complexity or add more patients to their load?
How much do I actually help them?
How do I deal with a know-it-all?
How do I deal with someone who is so incredibly timid they're afraid to do anything alone?
Do I approach a new graduate differently than an experienced nurse? How?
Being a Preceptor Can Feel Like Being a New Nurse
When you're a brand new preceptor you are doing things you've never done before. Often, without a lot of training. 
I've precepted nurses myself. I was even fortunate enough to get specific preceptor training from my employer. But, when I was given a new nurse to precept and felt like I was flying blind. 
I asked around, and people all seemed to approach this differently. 
I reflected on when I was precepted and remembered how each preceptor handled not only their shift differently, but taught differently. I honestly didn't know where to begin. 
I decided to piece together what I could from people I respected, but know that what I provided wasn't as good as it could be. 
But… I knew we could do better. I knew nurses deserved better. Our patients deserve better.
Every nurse that hits the floor deserves the best preceptor experience possible.

The Future of Nurse Precepting
What if there was a one-stop ultimate resource to provide the structure needed so that you knew how to approach precepting, take out the guesswork, and look awesome doing it?
What if instead of being nervous about them doing something questionable, you were calm and prepared? What if you knew a tactful yet kind way to respond in a manner that not only preserved trust and rapport, but also focused on the big picture goal: Training them to become a safe and autonomous nurse?
Preceptor Pro is the ultimate resource for go-getter nurses ready to be at the top of their preceptor game.
This 100% online self-paced course will provide the structure you need to become an amazing nurse preceptor. 
With Preceptor Pro, here's what you'll learn:
What

mindset and mission

you need to have as their preceptor

How to

start off on the right foot

- not BFFs, but also not a drill sergeant either

Things you

should never say

to an overwhelmed new nurse

Simple ways to

build trust

with your preceptee

How to break orientation into smaller, more manageable chunks with

reasonable expectations

How to balance being

kind and encouraging

while also

pushing and challenging

How to precept someone with

more experience than you

How to set

realistic goals

each shift and week

How to d

eal with a timid, overly confident, disengaged, or emotionally immature

preceptee

How to

avoid being an overbearing, disengaged, or overly nice

preceptor

A step-by-step way to

provide challenging feedback in an authentic way

How to

help them learn how to trust themselves

How to help them

learn time management, delegation, and prioritization skills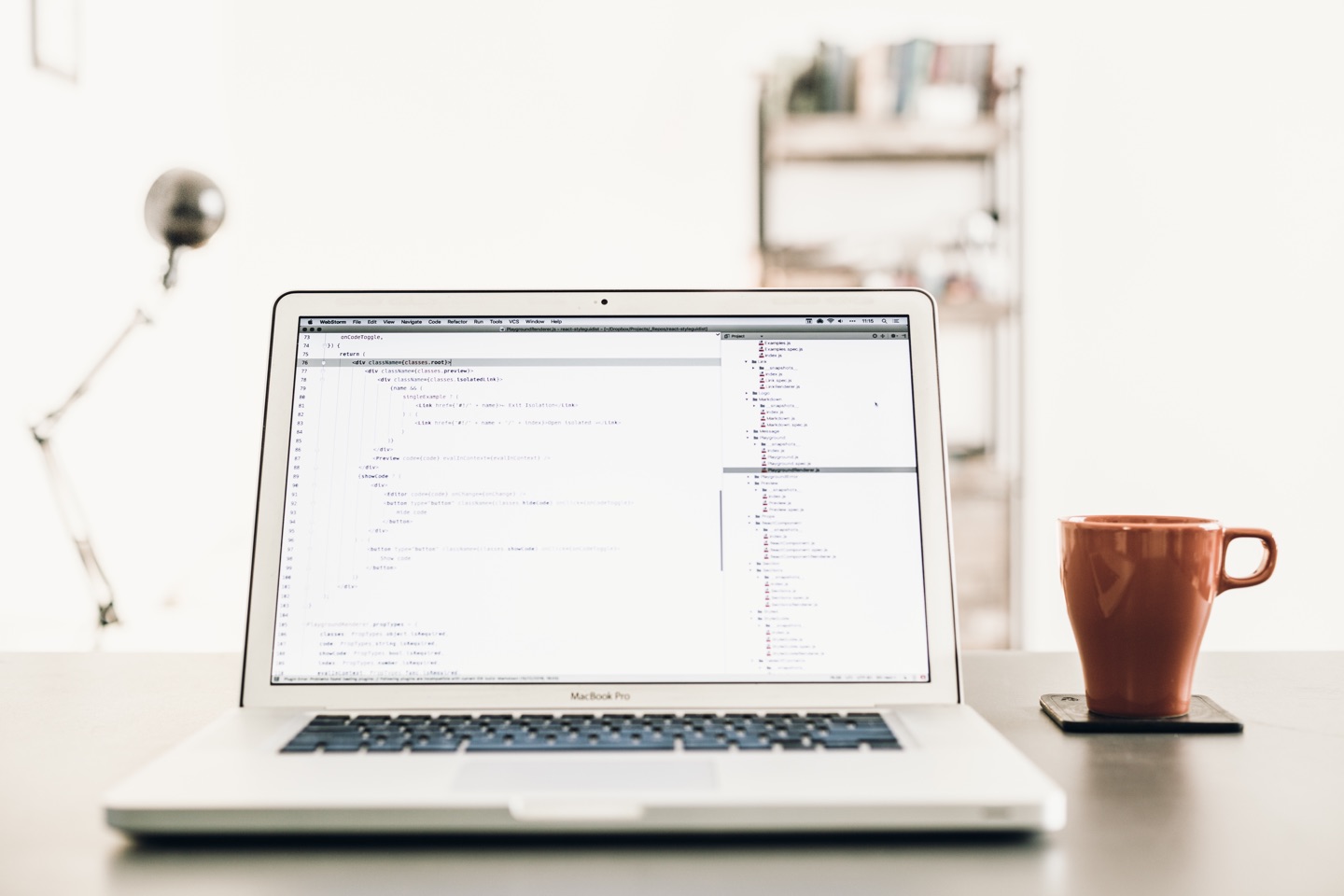 Unlimited Lifetime Access & Logins
Access the content 24/7 with no limits to the amount of times you log in or view content. Revisit and re-download worksheets with each new nurse your precept.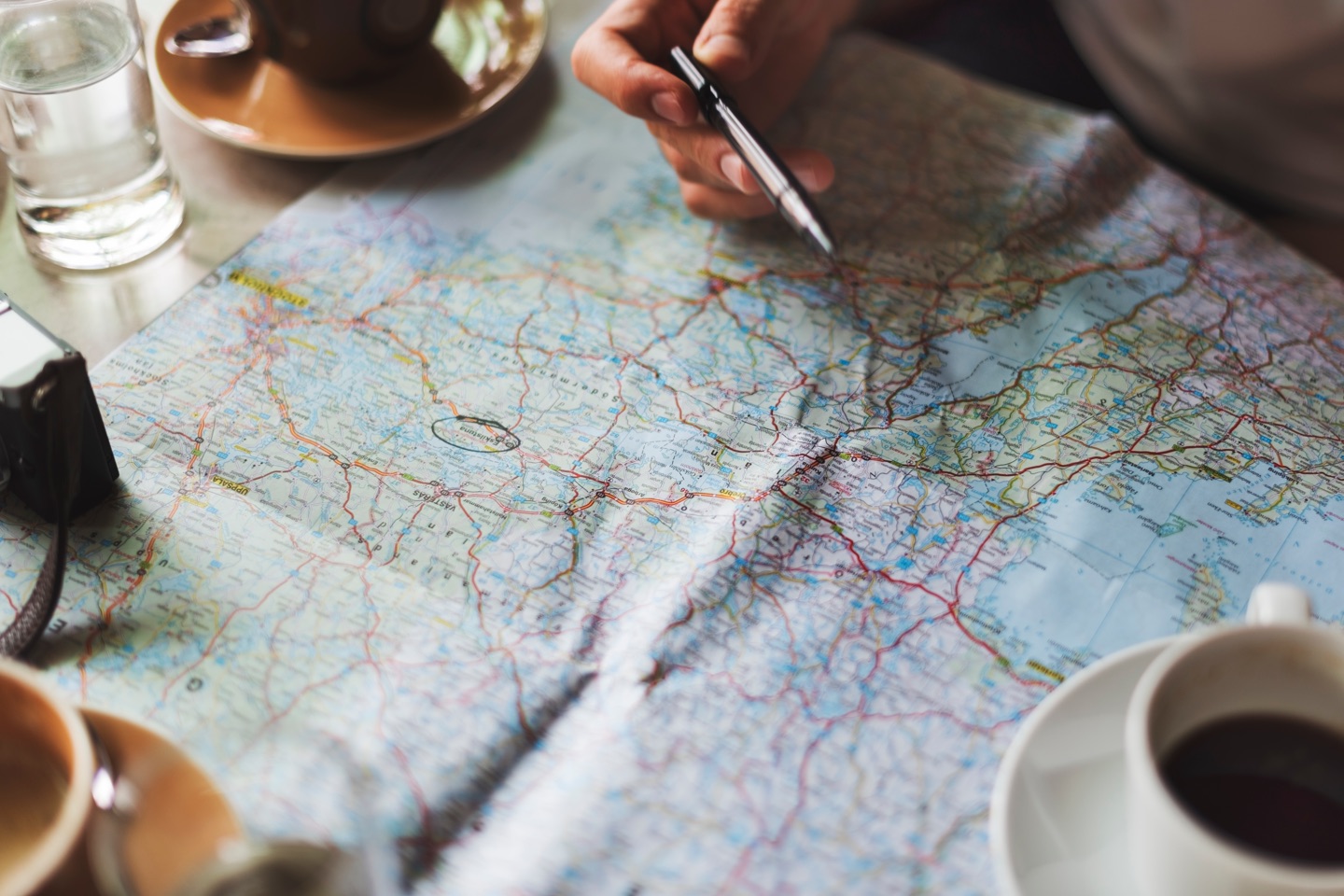 Full Orientation Roadmaps
Get a week-by-week breakdown of how many patients to give them when and how where to focus your instruction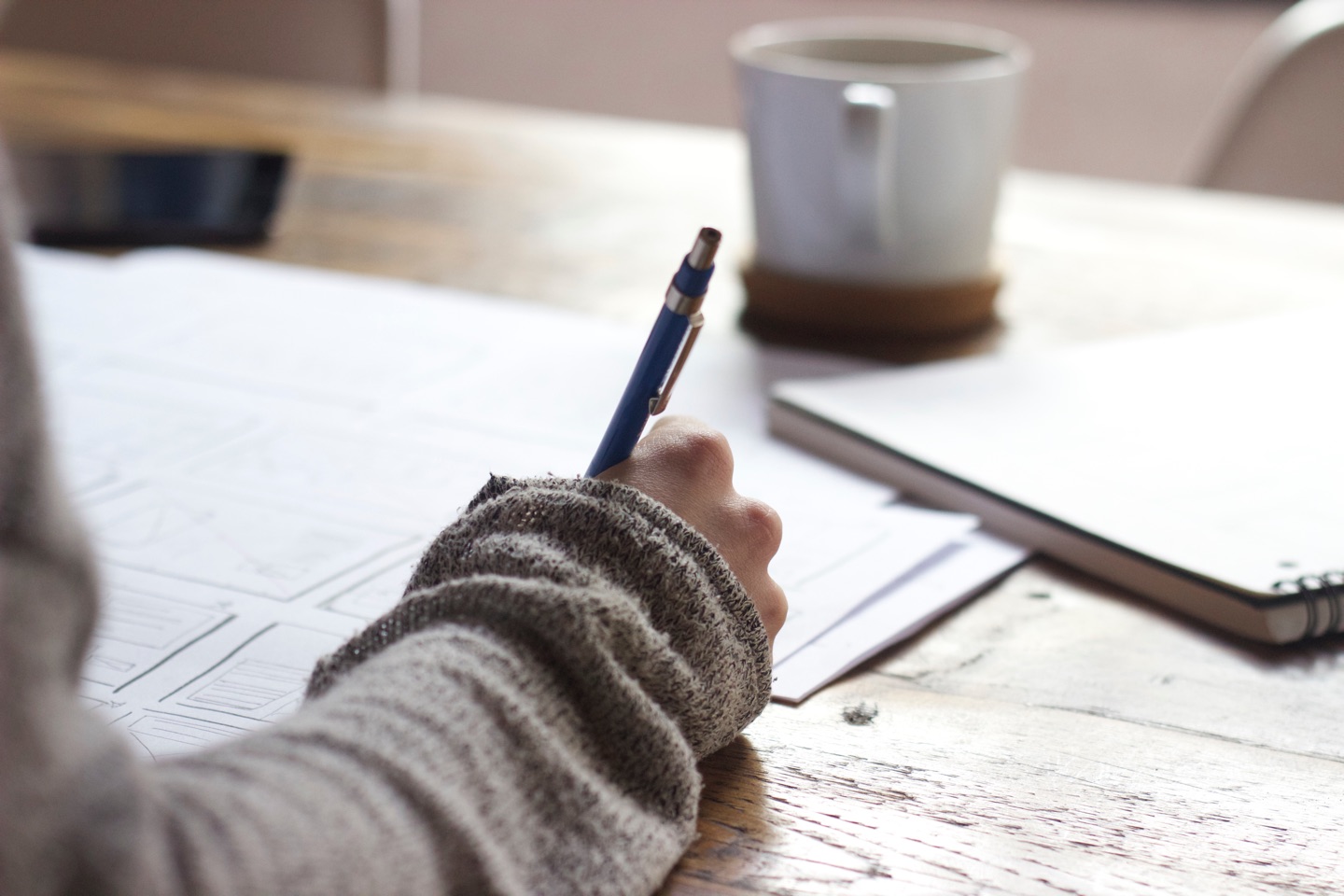 Audio, Video, & Transcript Options
Choose how you learn best! Each module has a video option as well as audio, and a transcript to download. We also have high level bullet points to use as you follow along with the videos.
PLUS - $190 worth of bonuses!
In addition to the regular content, we've got great free bonuses to everyone who enrolls!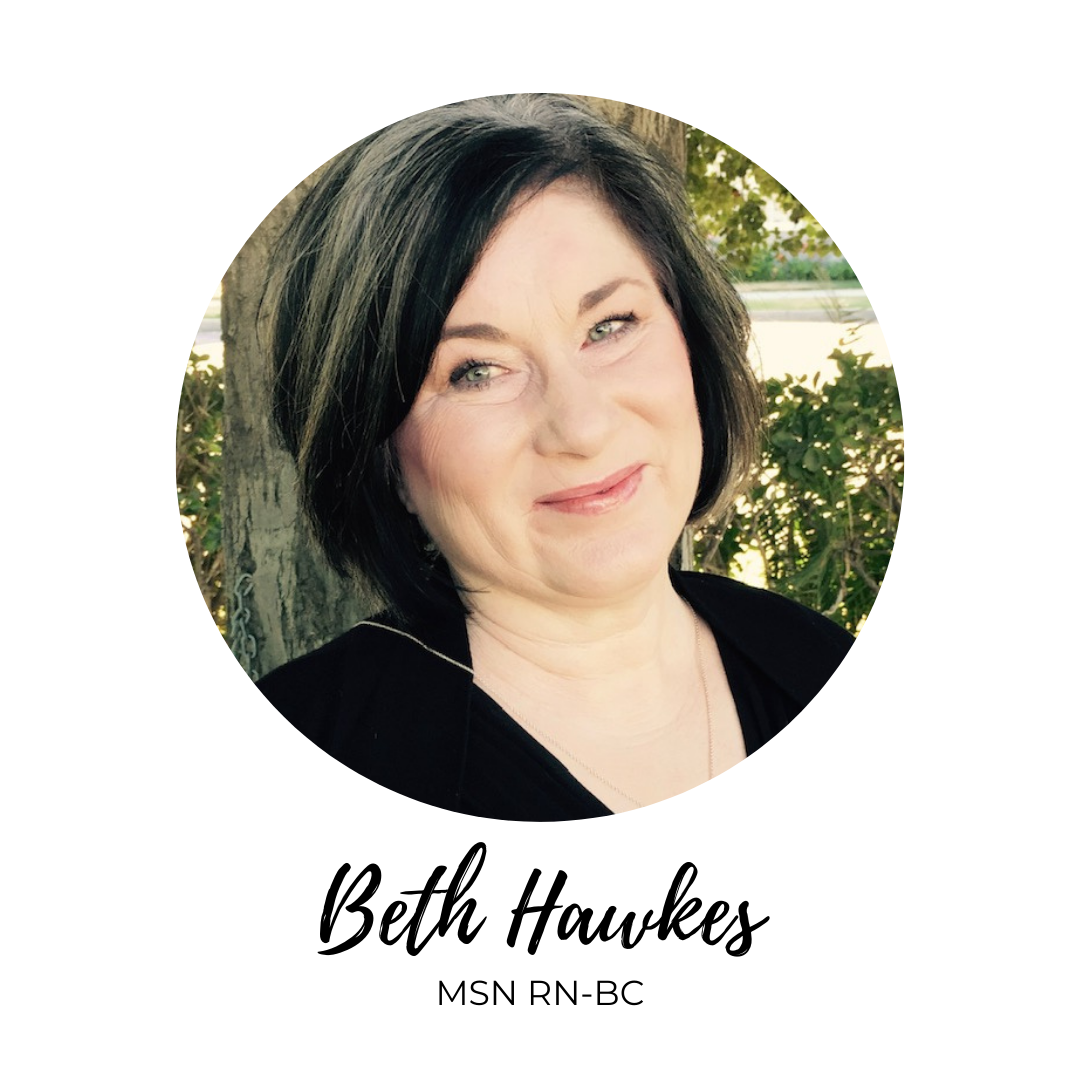 An interview with Beth Hawks, MSN RN-BC
Beth is currently an acute care educator who onboards new nurses and trains nurse preceptors. She is Nurse Beth of the Ask Nurse Beth career column on AllNurses.com. She is also the author of the popular books, Your Last Nursing Class: How to Land Your First Nursing Job and First Year Nurse.
Beth discusses supporting someone through reality shock, impostor syndrome in preceptors, giving feedback, precepting someone more experienced than you, and much more.
A $60 value!
An interview with Melissa Stafford, BSN RN CCRN SCRN
Melissa has precepted many nurses sine she began her nursing career in 2000. She's spent most of her career in neurocritical care and is now the assistant manager. She's taught many precepting and neuro classes, and has won numerous awards like the DAISY award and the Great 100 Nurses of North Carolina.
During our interview, Melissa discusses important topics like lessons she learned the hard way as a preceptor, how to cultivate a sense of urgency, tips for working with management, and the preceptor learning curve.
A $60 value!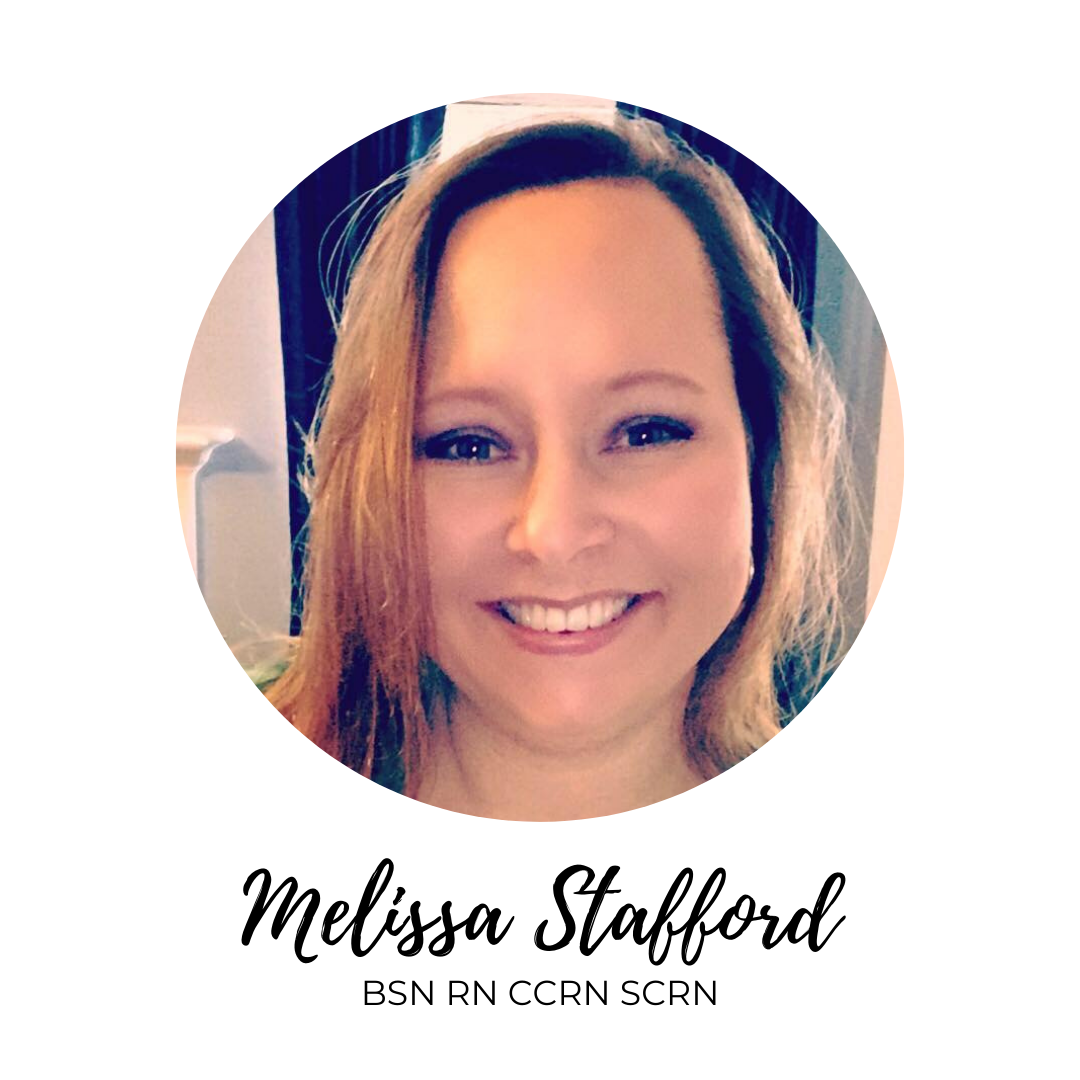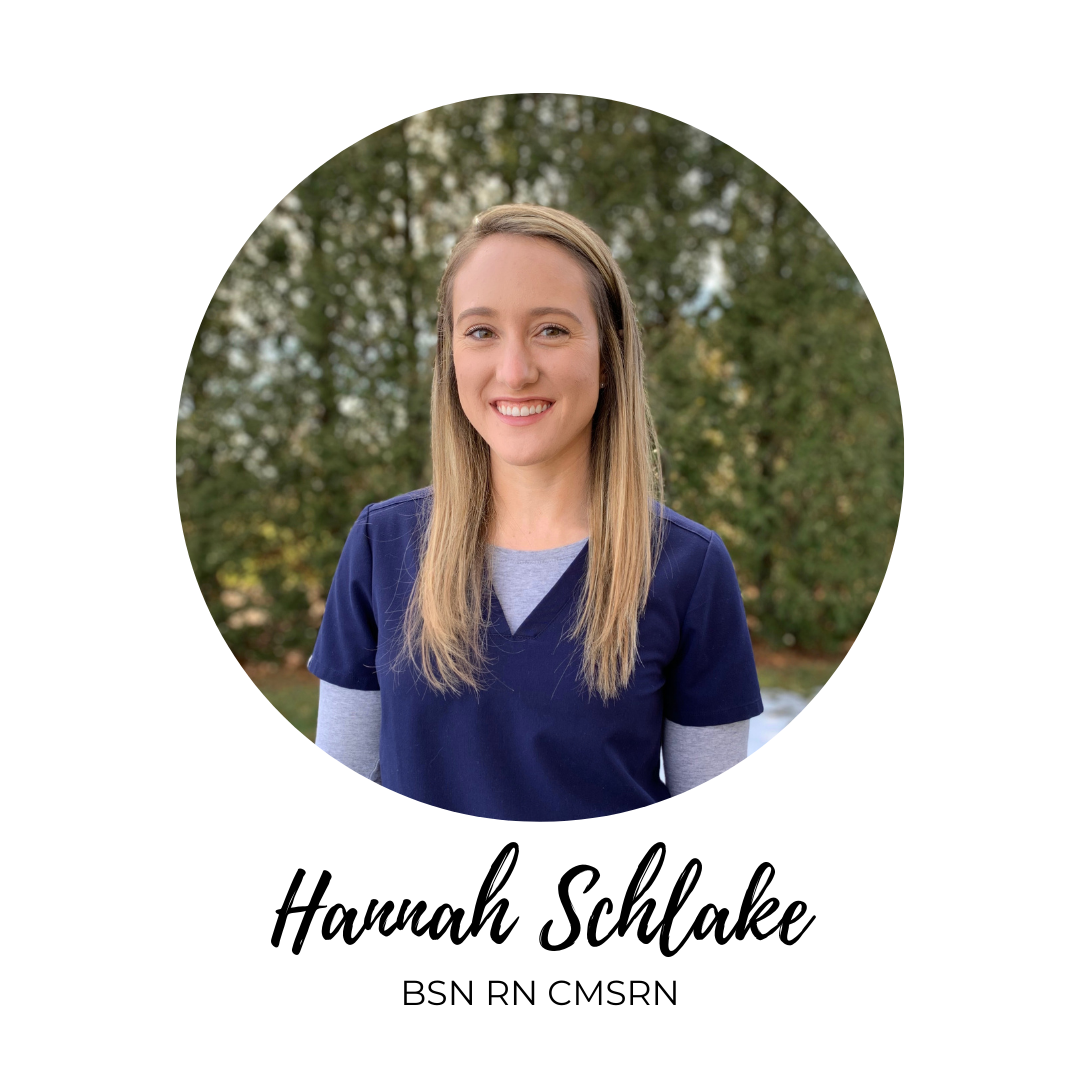 An interview with Hannah Schlake, BSN RN CMSN
Hannah has been a nurse since 2018. She worked at a Level 1 Trauma center in a med-surg unit until 2021, precepting many nurses during that time. She recently began a new position in a surgical ICU in a large urban hospital and was precepted herself again!
Hannah shares great insight from both sides of the table, including challenges she had to navigate being precepted, not-so-helpful preceptor behaviors, comparing ICU vs med-surg orientation, and lessons she's learned along the way!
A $30 value!
Our Navigating Preceptors module for the FreshRN® New Nurse Master Class
We have a module of our self-guided nurse residency program dedicated to helping orientees navigating their preceptor-preceptee relationship!
In this module, I interview Amber Nibling, MSN RN-BC who is the Director of Clinical Education at a hospital system with a nationally-accredited residency program. She is the nursing leader over the preceptor educators and provides invaluable perspective.
A $40 value!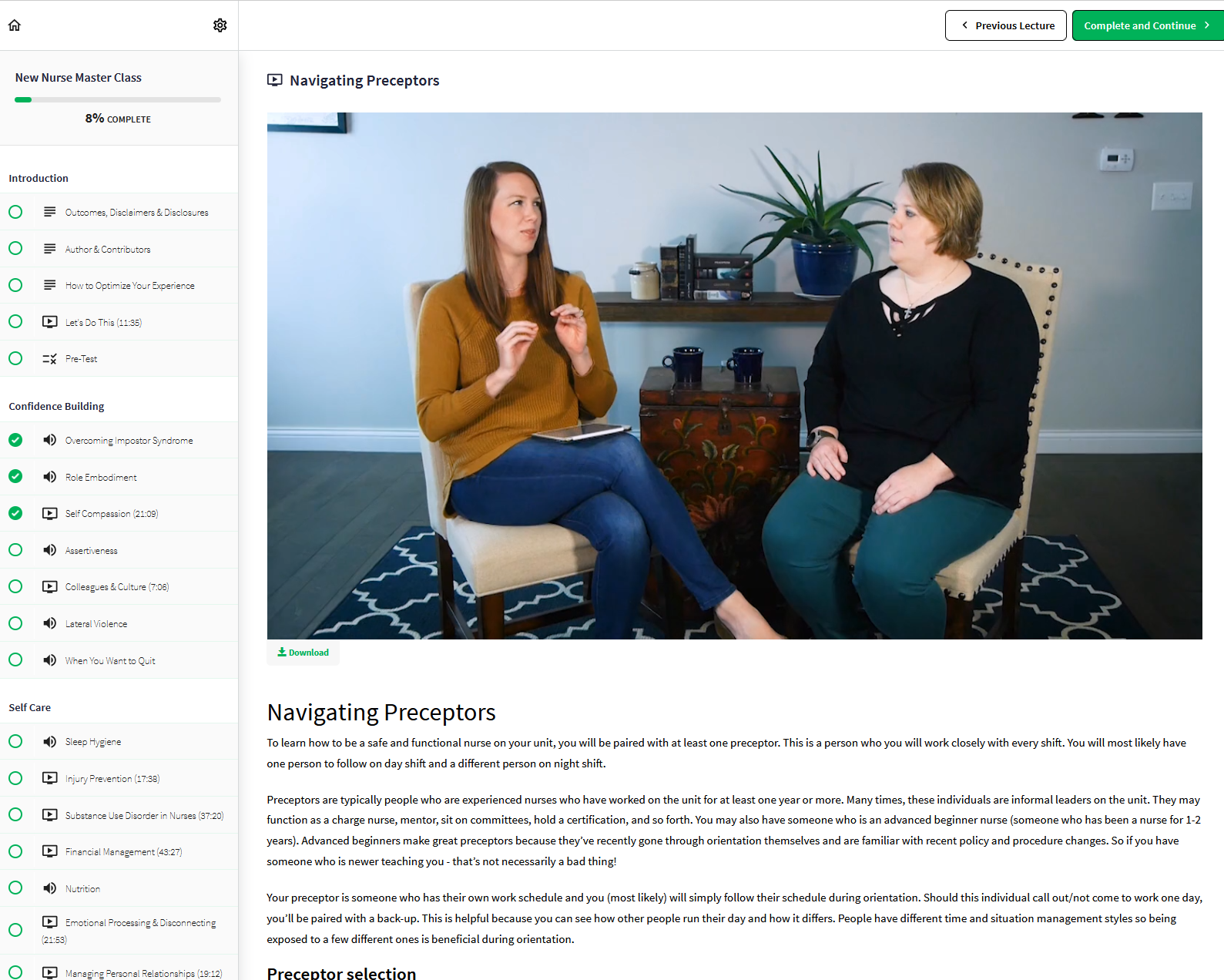 FAQ's
How long do I have access?
Once enrolled, you will have lifetime access!
Does this course end on a specific date, and do I have to complete it in order?
It is a self-paced course, so you can start and end whenever you'd like, and revisit it as many times as you'd like.
While we encourage you to complete the modules in order, it is not required.
Does this course come with any continuing education credits?
No, this course does not.
What's your return policy?
We would never want you to be unhappy. Our return policy is that it must be requested and issued within 14 days (please allow 1-2 business days for processing), and less than 50% of the course has been completed.
Will this work for outpatient precepting?
This course has an inpatient focus, however some of the broader concepts (mindset, navigating challenging tendencies, etc.) are applicable to both settings.

Hear what students of Preceptor Pro have to say!