Getting ready to start a nursing job on an orthopedics unit and want to get ahead of the game?
... What if you had the ultimate orthopedics nurse playbook to study and prepare your very first day on the unit?
Acute care orthopedics nursing has its own challenges…
It's an environment that's so fast-paced, just 3 minutes after report you're somehow already hours behind with pain meds, therapy appointments, wound care, and more.
You're caring for patients undergoing extremely intense surgeries - who then get discharged only 24-48 hours later.
You routinely round with intimidating orthopedic surgeons who have very specific, yet often unspoken, expectations for the nurses on the unit
The warning signs of common postoperative complications are subtle but critical, which is difficult to detect while simultaneously caring for multiple similar patients
And promptly discharging patients with various medical equipment, follow-ups, therapy, and complex medications regimens is no easy feat!

But, what if you could have an ortho nurse playbook that told you how to navigate these challenging scenarios, right at your fingertips?
… and what if that playbook only contained the need-to-know information?

From Kati Kleber, MSN RN
American Nurses Association published author, nurse educator, and national speaker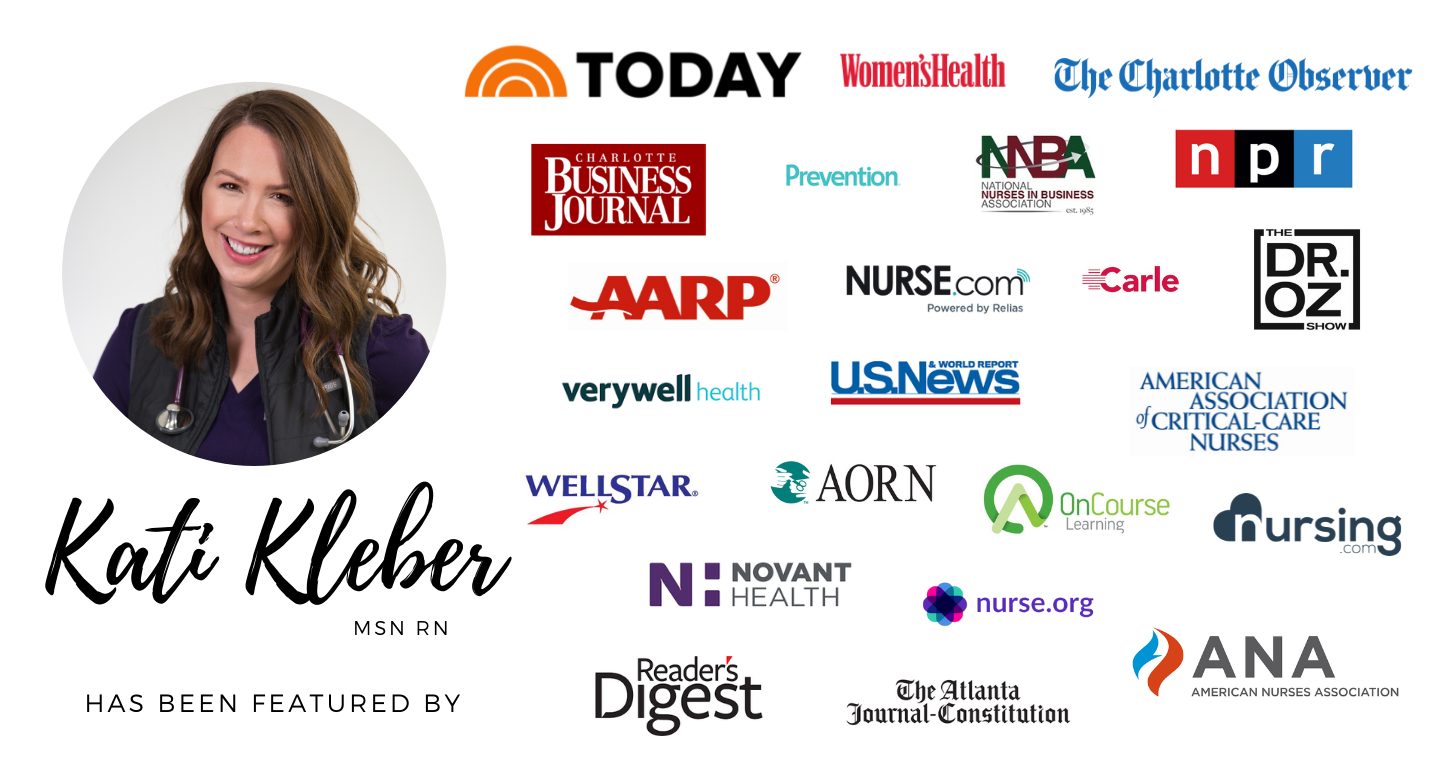 Maybe you've landed the job, or maybe you're getting ready to apply for a staff nurse position on an acute care orthopedics floor. You want to do all you can to prepare for your first day, but when you're new you don't know what's need-to-know information and what's nice-to-know information.
Let's be honest, we don't have time to learn every single thing about orthopedic surgery right now.
While that would be nice, it's one thing to read it. It's another to recall that information in the midst of a busy and chaotic shift where you're learning on the fly.
As an experienced bedside nurse, I know what it's like to learn incredibly important information on the fly during a shift. There's a lot of stuff you pick up along the way that would have made a massive difference had you been able to brush up on it earlier, or even know it was a priority.
Nursing school provides so much information over a longer period of time that it's hard to retain and recall that information when it counts. It's like it's only an inch deep and a mile wide of basics.
But, when you get into the real nursing world and step onto a specialty unit, it's like what you need to know is an inch wide and a mile deep. Even switching specialties can make you feel like a new grad all over again!
Creating education and encouragement to meet nurses where they truly are, and not where they think they should be is my passion. And we have now added an orthopedics course to our FreshRN® family of courses!
Picture this…
You clock in, see your assignment for the shift, take a deep breath.
You're ready.
You take report from the off-going nurse with ease. You can quickly write down their information and ask important questions
While getting report, you're planning your time management for the beginning of the shift. You know which patients you need to pay extra attention to, who needs more encouragement and education, and what information on the chart you've got to review. You give your patients who you know won't be discharged today ample attention in the morning, because once you start getting those post-ops in the late morning/early afternoon, you'll have less time to play with.
Soon, the orthopedic surgeon walks on the unit to round on her patients. You greet her with a smile, prepared for questions and know how to navigate the questions she may have that you're not so sure about.
You can speak in terms of decreasing her patient's length of stay, rather than ticky-tacky details that don't move the needle. She's impressed. She likes how you work. Her nurse practitioner is equally impressed with you, because you not only can identify situations that require you to notify him, but do so with astute timing, and with concise yet thorough details.
You make their job easier.
They happily do the same for you.
Your patients know you mean business, but also feel safe and comfortable under your care. You know when to push and motivate, but also when to pause and comfort. You know the complex pathophysiology behind common complications so well that you can break them down into easy-to-understand terms so they get why they need to do all of those tedious, uncomfortable, and exhausting things post-op. You educate them with a calm confidence that encourages trust and builds rapport. They willingly do the things they know they need to do because you met them where they are, not where people think they should be.
Now... I know what you're thinking.
"I won't get there until I've been on the unit for years!"
Wrong.
It doesn't have to take years. There is a lot you can do right this very moment that can set you up for success on your orthopedic unit.
Our goal is to make it so that while you're on orientation, your focus is learning how to do the things you can only do at the hospital. Leave the pathophysiology, pharmacology, lab, and common surgery refresher to us.
You can look like a pro on day 1 by asking the right questions at the right time.
And what if I told you that you can peel back the fear of the unknown, and start devouring the playbook now?
Introducing...

Ortho STRONG: A Crash Course for New Orthopedic Nurses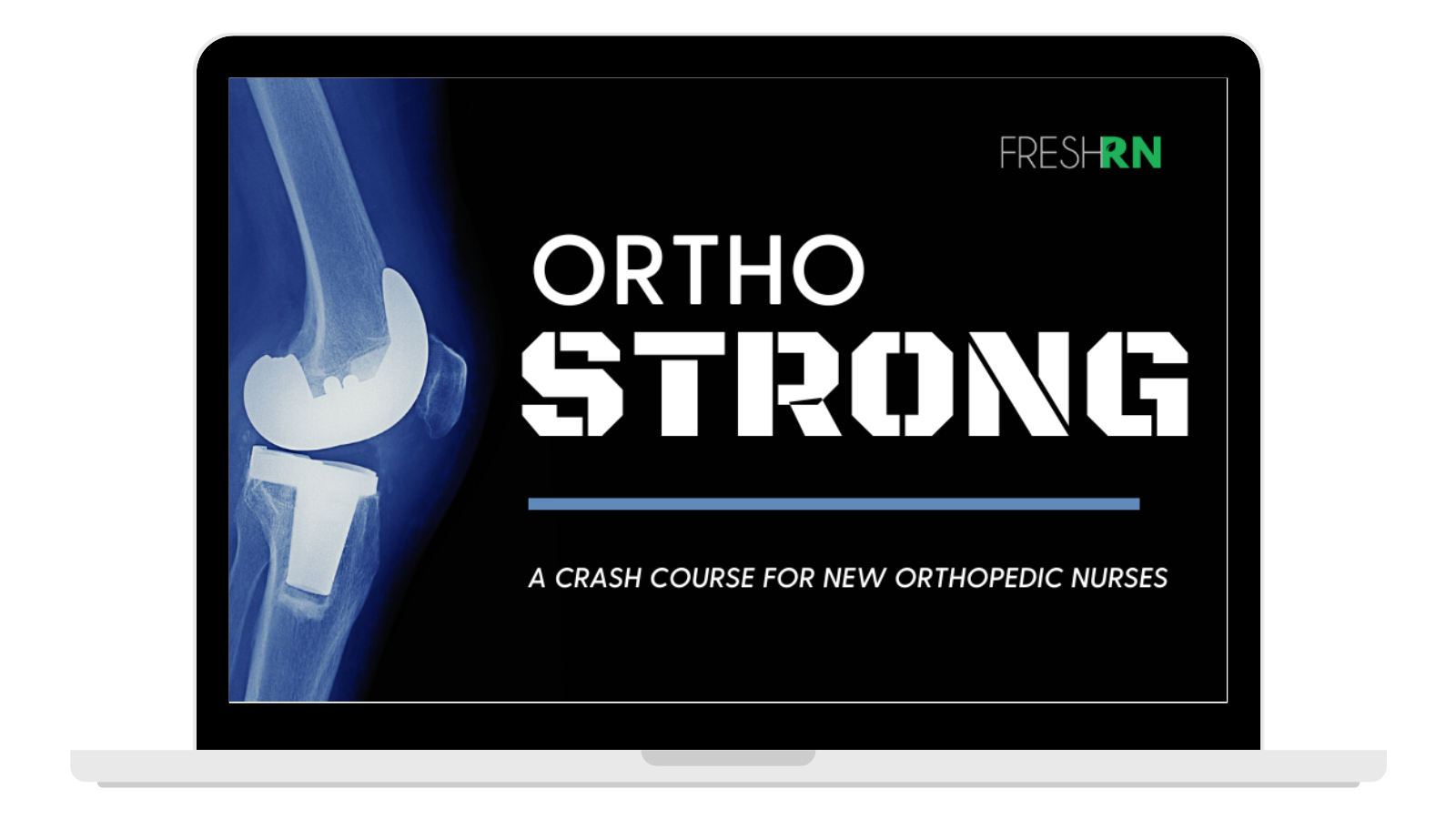 With the Ortho STRONG, here's some of what you'll learn:
What is actually done in the OR for a total knee and total hip replacement [THA & TKA modules]
The pathophysiology behind the top postoperative complications, and how to prevent and detect them like a pro [Common Adverse Events module]
The breakdown of what you need to know about spinal patients [Spinal Procedures module]
How to confidently give discharge instructions - with an example! [Discharge Education module]
Why your leaders and the providers care so much about discharge, and how you can take steps to move the needle towards discharge in a safe and meaningful way [Decreasing Length of Stay section]
General tips and encouragement, examples of effective pages, and talking points for working with orthopedic surgeons and advanced practice providers [Working with Surgeons & APPs section]
How talk to your patients about pain medications and management [Inpatient Medications module]
How to walk that thin line between too much and not enough pain medication to ensure your patients can participate in therapy [Inpatient Medications module]
Demystifying the incredibly complex anticoagulation game specifically for the bedside nurse [Inpatient Medications module]
The difference between the most common orthopedic devices you'll see [Orthopedic Devices module]
When to worry about incisions and drains [Wound Care & Drain Management modules]
Which subtle vital sign changes really matter, and how to effectively notify the provider [Vital Signs module]
Enroll now and get access to…
Over 30 modules
4.0 contact hours
Pick your format - audio versions of all modules so you can choose to read or listen
9 videos illustrating the pathophysiology behind common complications and videos walking through what happens in the OR
Insider information from an orthopedics nurse practitioner and nurse educator
Sample provider notification pages for common issues and needs
Lifetime access
A pre and post test to check your knowledge (with rationales!)
Sample discharge instructions
Multiple downloads, including sample discharge instructions, various assessment checklists, and more!
🦵 Hey Ortho Nurse, Upgrade to All-Access Mastery!
Unlock the full potential of your nursing education journey.
Get exclusive access to all of our high-value courses with the All-Access Pass. For the price of a single course, you can now enjoy unlimited learning opportunities and stay ahead in your career. Don't miss out - seize this opportunity now!
Your Instructor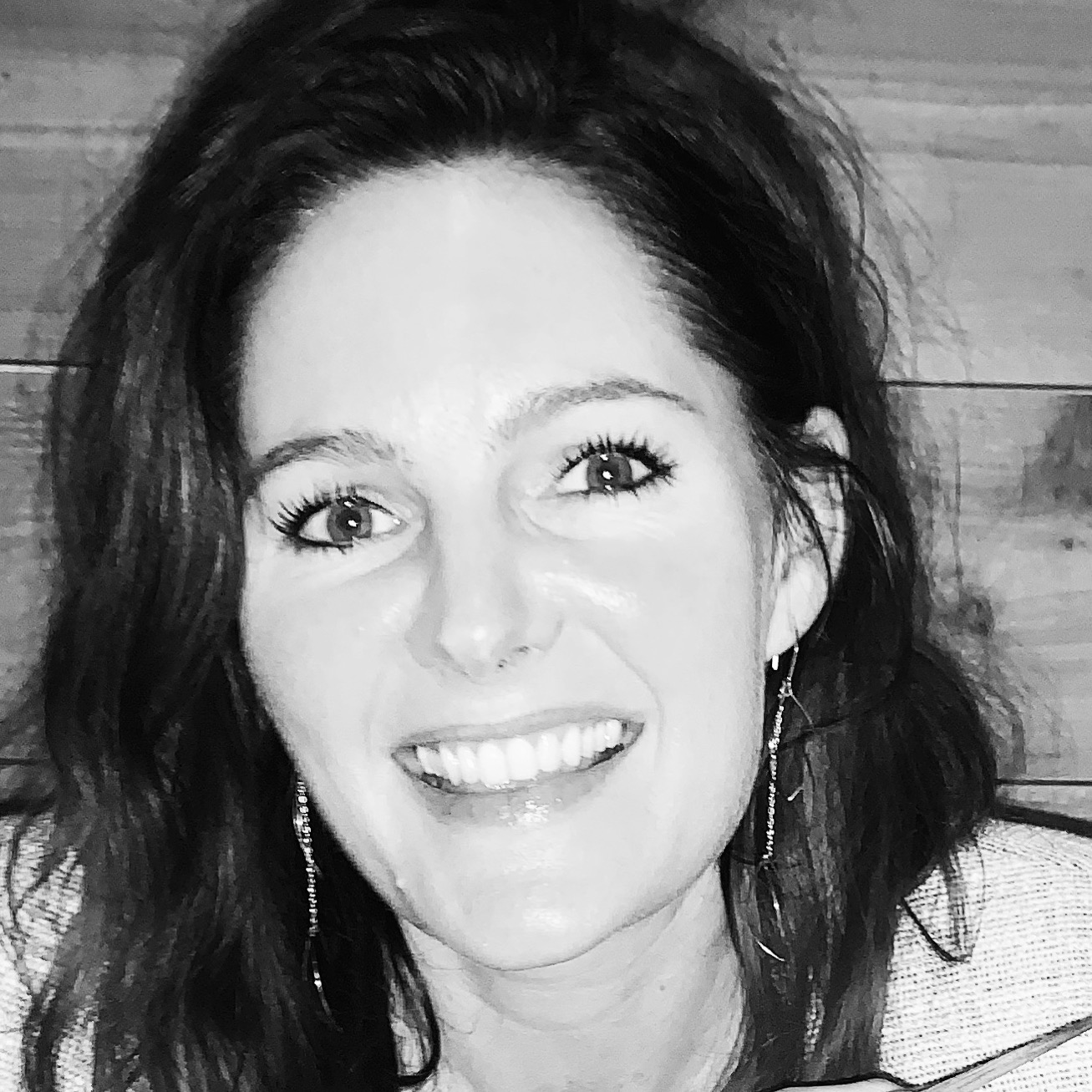 Elizabeth is currently a Family Nurse Practitioner at Northwestern Memorial Hospital in Chicago, Illinois working for their award-winning inpatient orthopedic surgery team. She has been a nurse since 2006, working medical, surgical, and cardiac units. She obtained her national certifications in both med-surg and critical care before completing her MSN in 2014. In 2020, she was nominated for Nurse Practitioner of the Year at Northwestern Memorial Hospital. Elizabeth is passionate about medical missions and serving those without means/access to medical care.

Hear what some of our learners have to say about Ortho STRONG!
Course Curriculum
Introduction
Available in days
days after you enroll
Patient Pathways
Available in days
days after you enroll
Common Adverse Events
Available in days
days after you enroll
Frequently Asked Questions
When does the course start and finish?
The course starts now and never ends! It is a completely self-paced online course - you decide when you start and when you finish.
How long do I have access to the course?
How does lifetime access sound? After enrolling, you have unlimited access to this course for as long as you like - across any and all devices you own.
What if I am unhappy with the course?
We would never want you to be unhappy! If you are unsatisfied with your purchase, contact us in the first 14 days and we will give you a full refund. The only refund requirements are: The refund must be requested and issued within 14 days of purchase (please allow 2-3 business days for refunds to be processed), less than 50% of the course must be completed, and the CE credit cannot be claimed.
Are you an approved CE provider? Will my state board of nursing accept these credits?
Our contact hours are provided in conjunction with Skills on Point LLC, who works with the FreshRN team as an advisor and reviewer of all material. Skills on Point, LLC is approved as a provider of continuing nursing education by the Ohio Nurses Association, an accredited approver by the American Nurses Credentialing Center's Commission on Accreditation. (OBN-001-91). Please check with your state BON if you're unsure if they will accept these credits, however to-date we have not had any reports of them not being accepted.