How do confident ICU nurses do it?

Somehow, they manage 14 IV pumps, a ventilator, feeding tube, and arterial line…
Work elbow-to-elbow next to intensivists, other highly experienced ICU nurses, and assistants to stabilize a rapidly deteriorating patient…
All while comforting and connecting with the terrified and overwhelmed family members hiding in the corner.
They know not only which questions to ask, but how to ask it in a way that's kind yet assertive.
And through it all, they still look calm, cool, and collected.
It's like the game is tied, there's 3 seconds left and they're saying, "Gimme the ball. I've got this."
And they do.
From Kati Kleber, MSN RN
American Nurses Association published author, nurse educator, and national speaker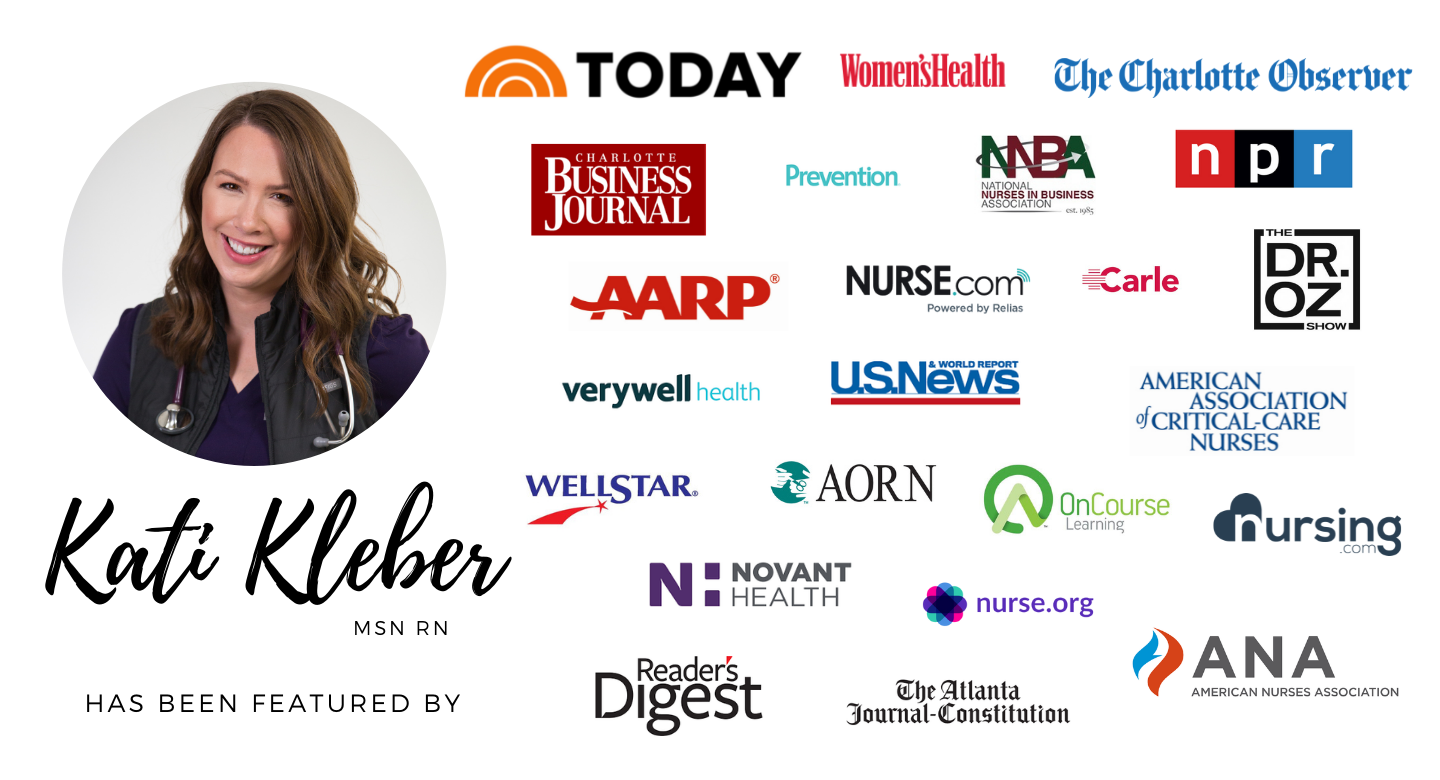 Landing the job in an ICU is one thing, but rocking your orientation and becoming a confident intensive care nurse is another.
You've done all the "right" things…
You excelled in nursing school… maybe you even worked in med-surg, the ED, step-down, or another nursing specialty. You blew them away in the interview. You've read everything you can find online to try to prepare for this. You even bought the expensive stethoscope, found the perfect scrubs… and yet, you still feel woefully unprepared to begin this incredibly intimidating journey.
I get it. I was there. Back in 2012, I started out on a neurocritical care unit with two years of cardiac med-surg experience behind me and I still felt like a new grad.
But just for a moment, picture this…
You wake up from a full night of restorative sleep. You head into work, getting your game face on for another day of orientation into the ICU. You clock in, see your assignment, and get report on your patients. You spot a few red flags that jump out at you, and briefly chat with your preceptor about them, who commends you for noticing them.
Next, you head towards your patient's room with your head held high, and your head and heart calm. You see the ventilator, arterial line, central venous catheter, three drips, and tube feeding all right where they should be – all programed correctly – and smile as you greet your 49-year-old patient and his wife.
"Hi there, I'm going to be your nurse today. I wanted to say hello and introduce myself and my preceptor. I'm still on orientation and learning this new role, so my preceptor will be with me all day checking behind me and collaborating with me as we care for you. I just got report on you and the other patient I'll be caring for today. I'm going to take a second to review the chart and the plan for the day, and meet my other patient as well, and will be back in about thirty minutes to go over things with you - if that will be alright. What kinds of questions can I answer for either of you right now? Is there anything I can grab for you when I head back in?"
The patient's wife gives you that kind of smile a proud mom would give her son who just told her he got into his #1 choice for college. Your calm confidence was reassuring to her, even though you're still on orientation.
"No, we're all set right now. Thank you, it's nice to meet you," she says through a tiny grin.
You give the patient a reassuring pat on his hand as you walk past, and confidently head into your other patient's room to do the same. You try hard not to let a little smile sneak out as you're secretly super proud of yourself because you feel at home in the controlled chaos that is the ICU.
You don't know all the answers… you don't know every single intricate detail of how things flow in this new environment…
But you do know how to navigate the unknown with an unapologetic thirst for growth. You're not ashamed of your knowledge deficits – you're acutely aware of them and advocating for yourself so they are continually being filled.
While you might not know how to enter the order set for the sepsis protocol, you do know the patho of sepsis, what labs should be on there, what complications and signs of deterioration you need to watch out for, and you know how to explain it to the patient and their loved ones.
You possess a level of self-awareness, clinical skill, kindness, and humble confidence that is a refreshing breath of fresh air for anyone you encounter.
What if I told you that even if you don't feel like that nurse today, I can help you begin the journey right now?
Introducing...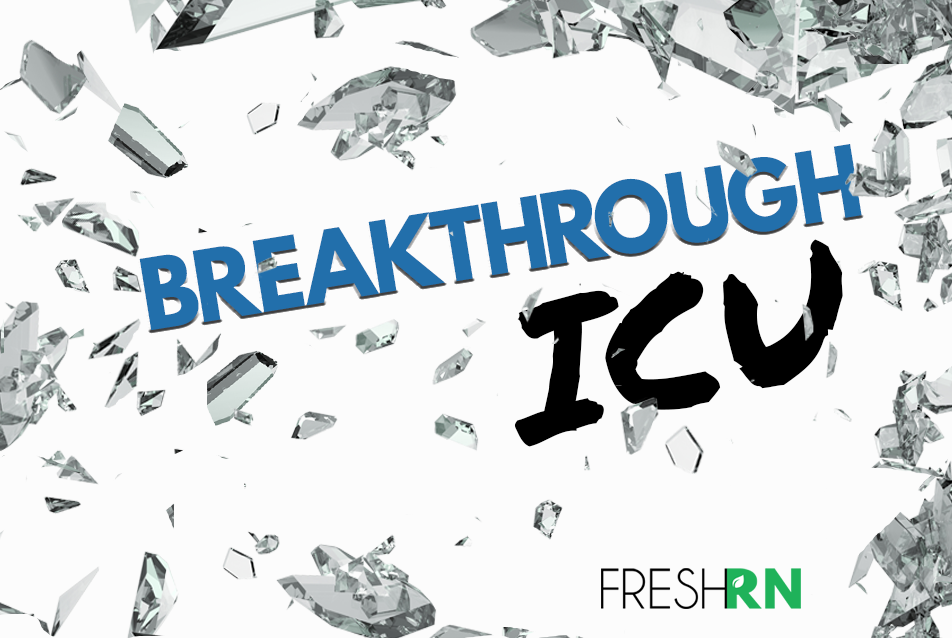 Breakthrough ICU - the 6-week online course specifically crafted for brand new ICU nurses who want to get ahead of the game so instead of merely surviving orientation, they're confidently thriving all the way through from day one to day done.
Let's save all that tasky stuff like learning how to enter order sets, how to call the house officer to expedite a transfer to free up a bed, or how to work the IV pump, for the only time you can learn that information – at the bedside.
Let myself and another certified critical care nurse with a passion for educating and encouraging newbies, teach you everything you can learn at home, so you can look and feel like a prepared and knowledgeable orientee on the floor.
With Breakthrough ICU, here's what you'll learn…
The patho and treatment courses for the top ICU patient diagnoses [Disease Processes section]
How to manage your time when your patients are doing just fine – and when they're not [Time Management module]
How to assertively question inappropriate orders in a respectful manner [Developing Assertiveness module]
How to ground yourself emotionally so you don't get lost in your patient's pain and suffering, and still perform the tasks at hand while connecting with your patient [Foundational Principles & Emotional Support modules]
How to give an outstanding ICU nurse-to-nurse report [Nursing Report section]
The main priorities of all ICU patients, and how to monitor and manage them like a pro [Patient Priorities section]
How to talk to patients who are unkind, manipulative, or when the patient is a nurse or physician themselves [How to Talk to Patients module]
How to harness your innate stress response so you can remain calm and focused in the midst of chaos [Foundational Principles module]
Not only the many diagnostics you'll facilitate for your patient, but the logistics of the diagnostics as well [Diagnostics section]
What to do in a code blue when it's your patient vs. someone else's [What to Do in a Code Blue module]
The must-know info to safely use central lines [Central Venous Catheters module]
How to walk with patients through emotional instability and provide authentic empathy [Emotional Support & Decision-Making module]
How to set up an arterial line, ensure its accuracy, and discontinue it [Arterial Lines module]
The basics of cardiac monitoring, differentiating it from 12-lead ECGs, and practical tips [Telemetry & ECGs module]
And so much more…
Enroll now and get access to...
A new set of modules every week for six weeks
Lifetime access once complete
Over 13 hours of video and audio
Over 25 downloads – including checklists, worksheets, charts, and more
3D videos of the human body – illustrating the top disease processes impacting ICU patients
12.0 contact hours
Insider tips and tricks from two nationally-certified experienced critical care nurses
A framework to deal with perceived failures, mistakes, and missteps
A structure to track progress and keep morale high
Talking points for tough moments – with patients, providers, colleagues, and others
An insider's look into etiquette, what's cool and what's not cool, unwritten rules, and nurse hacks
We would never want you to be unhappy! If you are unsatisfied with your purchase, contact us in the first 14 days and we will give you a full refund. The only refund requirements are: The refund must be requested and issued within 14 days of purchase (please allow 2-3 business days for refunds to be processed), less than 50% of the course must be completed, and the CE credit cannot be claimed.

BONUS
Plus! Enjoy my coaching package for free! (A $197 value)
My ICU nurse coaching package will provide additional structure to your orientation so that you can maintain a healthy perspective throughout your experience. When you have so much to learn, it's easy to feel completely lost or like you're not making any progress. This will keep you grounded and focused on what really matters: Becoming a safe, autonomous, thriving ICU nurse.
Using specific coaching principles, I'll support you through orientation, ask you important questions to consider, and re-frame how you view becoming an ICU nurse entirely.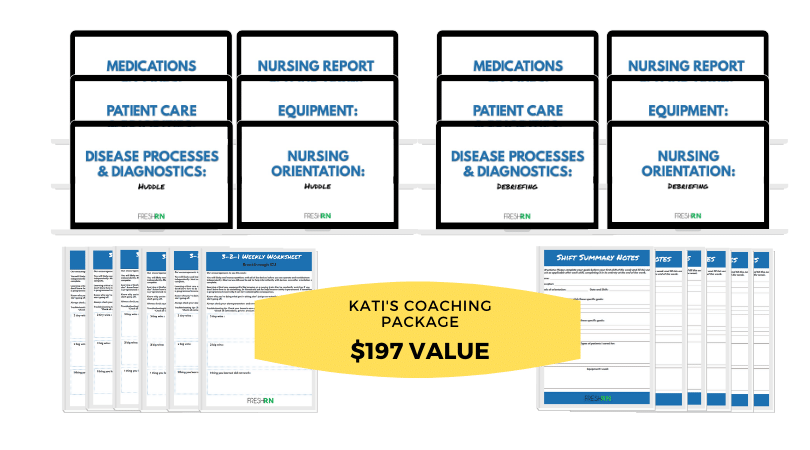 Each week, in addition to your normal modules, you'll also get access to:
Your HUDDLE video – Key concepts I want you to focus on during the week as you progress through the modules
Your 3-2-1 worksheet – A weekly worksheet, complete with encouragements relating to the week's content, and other important questions so you can keep track of progress and growth, keeping your morale high and your head in the game
Your shift summary – A weekly worksheet to track the details of your orientation, document your growth, and outline your existing needs
Your DEBRIEFING video – After a week of bedside shifts and modules, I'll revisit the important concepts, discuss experiences of my own, offer encouragement, and drive home what really matters
Meet Your Instructors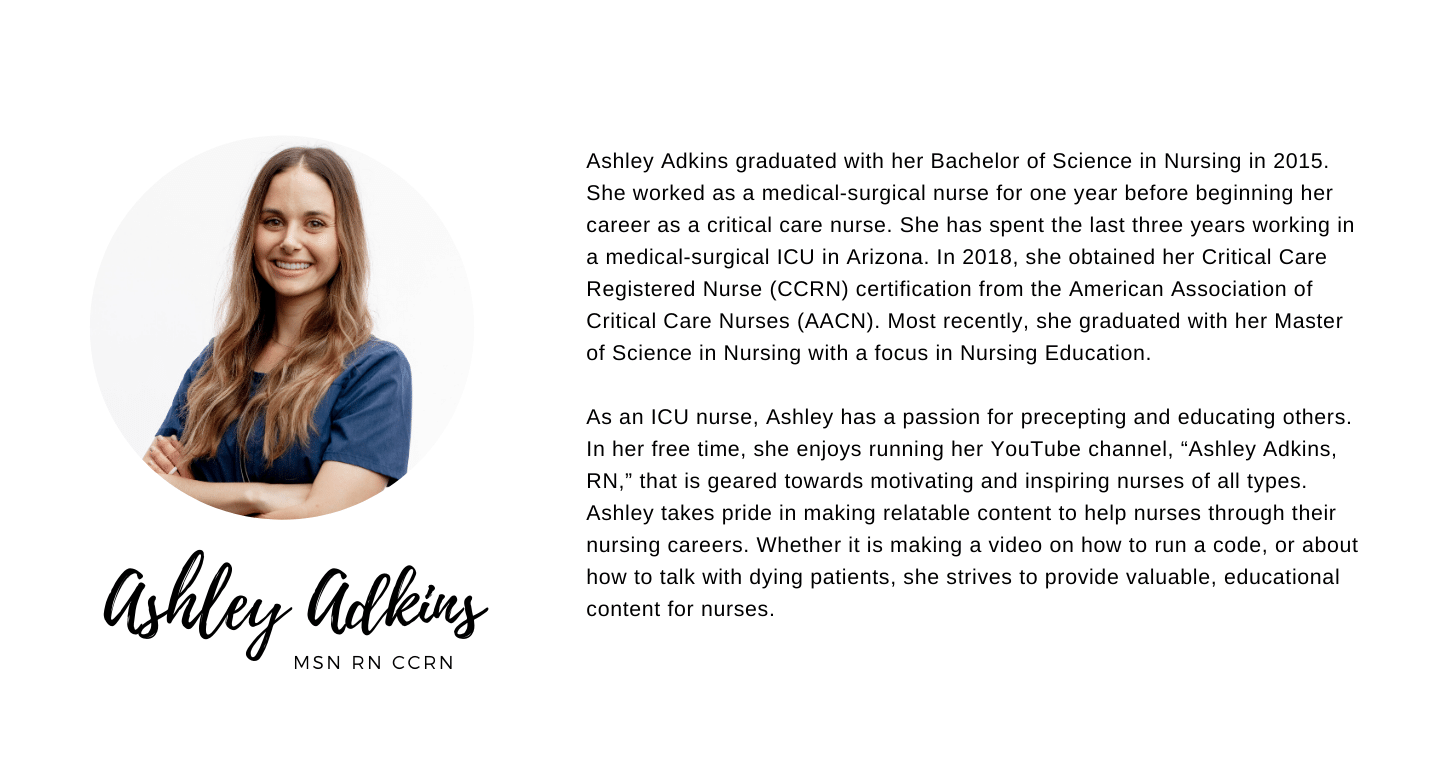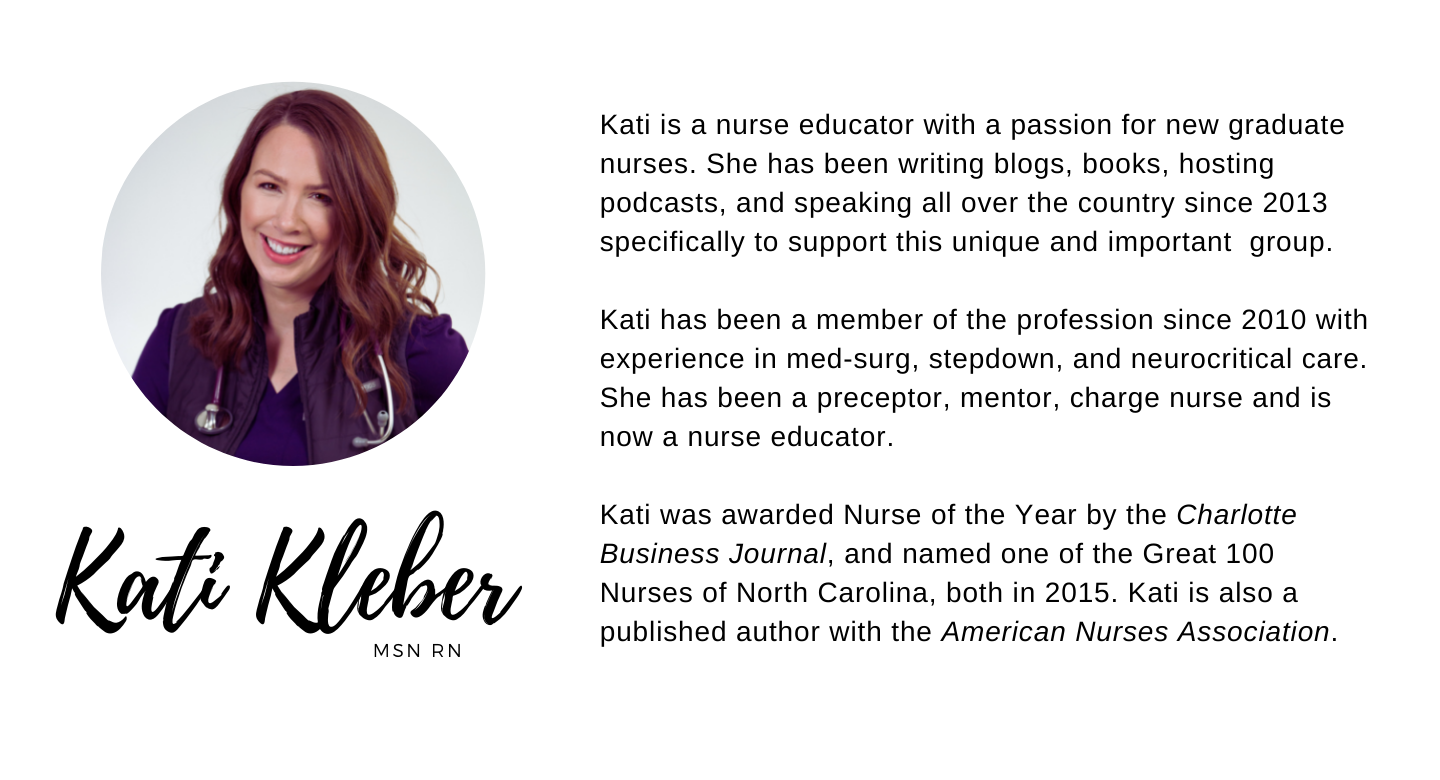 🙌 Upgrade for Ultimate Value!
Introducing the All-Access Pass - your gateway to a world of nursing education excellence.
For the cost of a single course (or more like 2 of this one!), you can now unlock a treasure trove of knowledge. Don't limit yourself; broaden your horizons and become a true nursing expert. Upgrade today!
Course Curriculum
Welcome! START HERE
Available in days
days after you enroll
BONUS Week 1 - Huddle & Worksheets
Available in days
days after you enroll
Week 1 - Orientation
Available in days
days after you enroll
Try Breakthrough ICU for an entire 14-days, risk-free.
If you're not seeing major gains at the bedside because of this course, I insist you get a full refund. Let me tell you why.
Ashley and myself carefully crafted this course not only from our own personal experience at the bedside in critical care, and with our backgrounds in curriculum development as nurse educators – we also considered the 100% brutally and uncensored honest needs voiced by so many new ICU nurses to us through our online platforms over the years.
We've had countless newbies reach out to us, on the verge of quitting, desperate for clinical knowledge and support, asking for guidance on how to survive and excel.
Over the years, we have learned that most clinical education is either created for nursing students and therefore heavily NCLEX® focused (AKA too broad and not practical), or geared towards certification for experienced nurses (AKA way too technical and advanced).
We know we need to meet you in the middle because we've been there. While we might have learned something in nursing school, unless we started using it daily right away – chances are we don't remember it well… certainly not well enough to apply it, and most certainly not well enough to recall it in the midst of an intense situation.
We know you need to brush up on some specific key clinical pieces of information to refresh topics from nursing school, not dive unnecessarily deep into highly complex information that won't change how you order your steps.
Most education tends to OVER explain things in extraordinary detail, so much so that we don't know where to focus or what we need to know as beginners to provide that safe care. It's actually not helpful to provide too much information to newbies because they don't know what's crucial and need-to-know vs. what's not as pertinent. This content is crafted to contain just the right amount of detail to empower you to take safe, thorough, efficient care of your patient while not going overboard and explaining every detail under the sun until we are all so overwhelmed, we just want to quit.
More is not better. Quality (and relevance to your current educational needs) over quantity.
We also are cognizant that gaining confidence in this highly intimidating and intense environment is a challenge, therefore throughout the course and with the coaching package, we attack learning how to stand with confidence and care as well.
Being an ICU nurse means walking through a patient's worst nightmare with them, being the light of safety in the darkness of their fear, and being brave and strong so your patients and their loved ones have a soft place to land, so they don't have to try to be brave for one another…
Naturally, this is incredibly emotionally taxing and it requires a degree of emotional intelligence and self-awareness to not only be able to step into that role, but to also simultaneously care for yourself.
We pulled all of that together to craft this course.
So, this means:
Modules and videos are bite-sized, not 300 pages of dense text
It won't be boring, hard, or unnecessarily time-consuming
No video is longer than 25 minutes (most are less than 5 minutes)
There are audio or video options for all modules to accommodate your learning style (whether you learn better by hearing or seeing)
You'll engage in authentic learning, not racing through modules or tasks praying people don't ask you questions
The information provided can be applied to your very next shift - it's not some theoretical interesting information that may be helpful at some point. Everything is actionable, tangible, and practical
It'll teach you both clinically important things as well as relational and social sides of working on a team in such an intense environment
You don't have to have any clinical experience prior to taking this course
You don't have to fake it til' you make it, or struggle through orientation
The goal isn't merely to transfer information to you, it's to actually have this education change the way you care for your patients and yourself – truly, experiential learning at its best
You can familiarize yourself with the unknown at home so when you encounter it at the bedside, you'll know what to expect and the right questions to ask, and really wow your preceptor
We'll gauge your expectations appropriately, so you're not chasing perfection with each shift – rather striving for improvement, knowing you're well on your way to becoming the nurse you've always envisioned you'd become
My simple offer is if you don't LOVE this course, I'll give you 100% of your money back with no questions.
To qualify for a return:
The return is requested and issued within 14 days. Please allow 2-3 business days for processing.
Less than 50% of the course is completed. Please note that this is a 6-week course that provides contact hours, so the modules must be completed in order and you cannot view later modules earlier (this is required for participation verification to be able to grant contact hours).
The contact hours have not been not claimed.
Please click here for our full refund policy details.
Stop wasting time and mental energy scouring the internet for incomplete and inconsistent answers

With Breakthrough ICU, it's like we took all of the highlighted info from the nursing textbooks, mixed in our own experience, wisdom, and expertise, (plus 3D videos of the human body!) and packaged it in a way so that it's tangible, easy to digest and understand, and can be applied to your very next shift.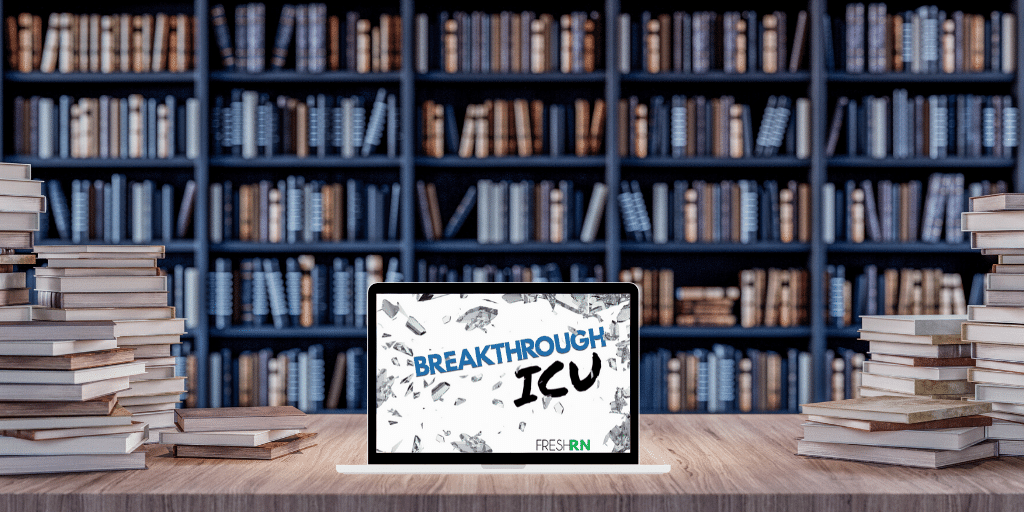 I don't want you to waste a second Googling things like:
"How to give a good ICU report."
"How to deal with mean doctors."
"How to explain ARDS to patients."
"How to take care of a central line."
"What to do when the charge nurse ignores you?"
"Different oxygen delivery options in ICU."
"How to take care of a vent."
Because soon you'll yourself reading tons of blog posts, Facebook posts, or nursing forums that actually just turns into a "who had it worse" contest of people telling horror stories – after you certainly don't have a clearer picture or definitive answer.
Or, you find yourself getting highly complex nursing medical journals that explain things that you're "supposed" to know in terms that are going way over your head… but you feel like you should know what they're talking about so your confidence tanks even more.
The last thing we need for our new ICU nurses is a lack of clarity, increased frustration and isolation, and mental exhaustion.

I don't want you to be in that negative mental space. Your journey to a successful ICU nurse is already tough enough, we don't need to make it even more challenging. We need to keep your head in the game, your confidence high, and maximize your time and efforts.
Hear what current students of Breakthrough ICU have to say!
Frequently Asked Questions
When does the course start and finish?
The course starts now and never ends! Each week for six weeks, you'll get access to a new set of modules plus your coaching videos and worksheets! Once the six weeks is over, the entire course (coaching videos and all!), you can enjoy lifetime access to them.
How long do I have access to the course?
How does lifetime access sound? After enrolling, you have unlimited access to this course for as long as you like - across any and all devices you own.
What if I am unhappy with the course?
We would never want you to be unhappy! If you are unsatisfied with your purchase, contact us in the first 14 days and we will give you a full refund. The only refund requirements are: The refund must be requested and issued within 14 days of purchase (please allow 2-3 business days for refunds to be processed), less than 50% of the course must be completed, and the CE credit cannot be claimed.
Do I get continuing education with this course?
Yes. Upon completion of the entire course and the post-course evaluation, you will receive 12.0 continuing education hours.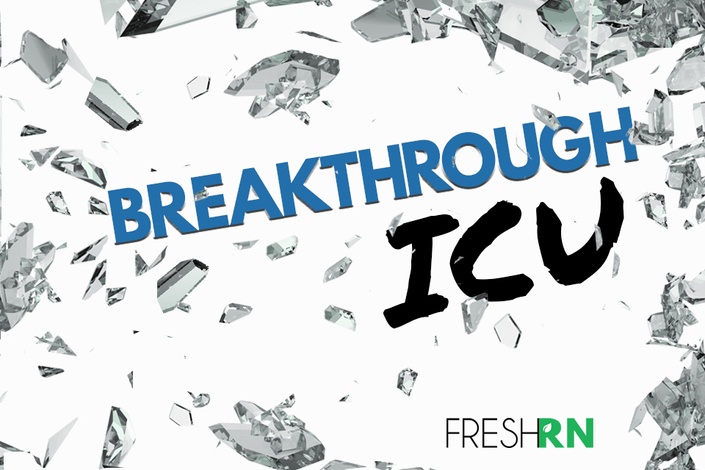 Breakthrough ICU
A Crash Course for New ICU Nurses - 12 Contact Hours