Want to get rid of the guess-work of applying and interviewing for your first nursing job?

For graduating nursing students who want to demystify the hiring process, hear what hospital nurse managers really think, and decrease their stress as much as possible so they can land the job with confidence

From Kati Kleber MSN RN CCRN-K

Nurse Educator, American Nurses Association published author, and national speaker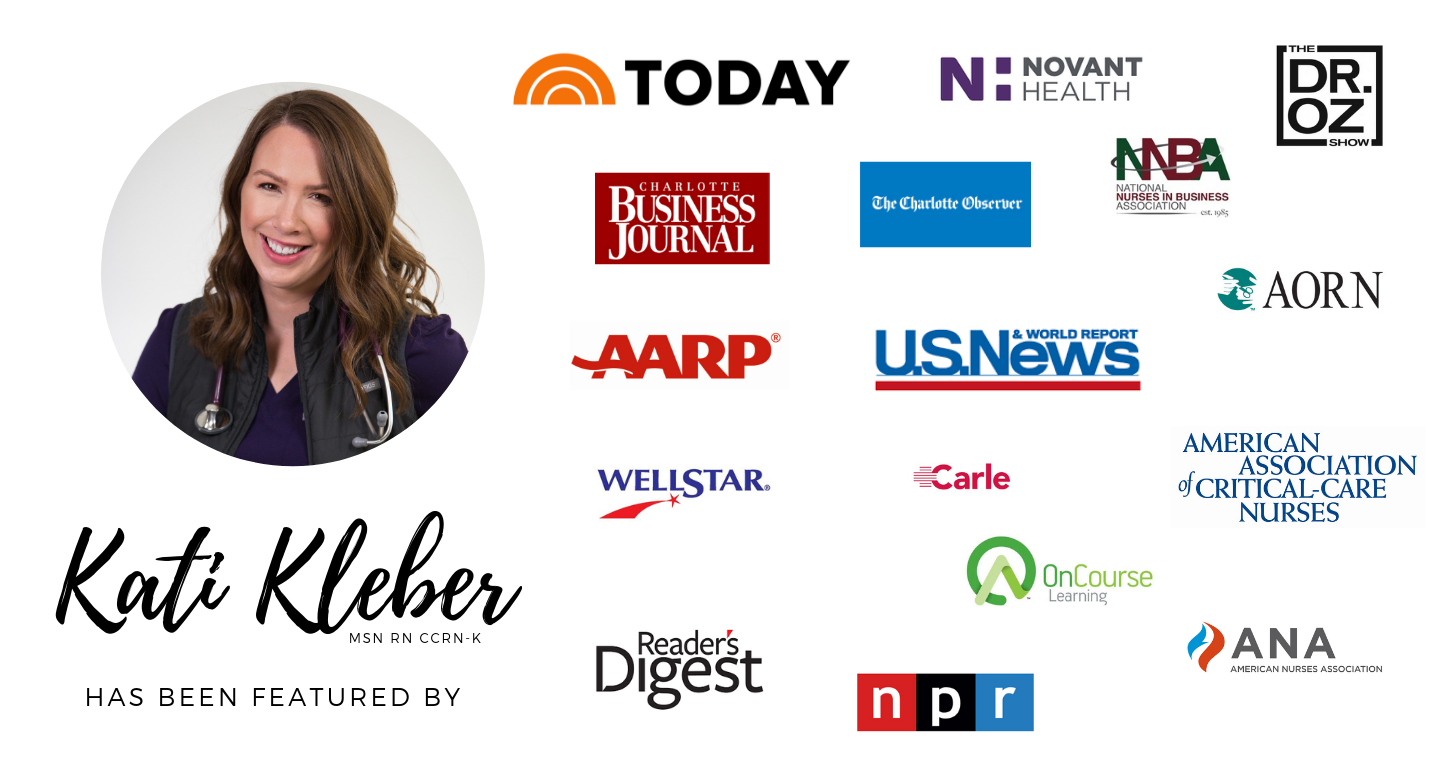 You're staying up late every night studying... waking up early every morning for class or clinical.

You're exhausted.
All you care about is passing the next exam. You have the looming fear of the NCLEX® constantly on your mind.
Then one day, you professor suggests everyone should start getting their resume together.
"Resume!?" you think.
"I go to school full time. I was a lifeguard every summer. I don't have anything to put on a resume!"
Great, another thing to do. And you don't even know where to start.
You're terrified of the the thought of a interview.
You don't know what to do so say… what's reasonable, what's unreasonable… what they expect you know… what looks terrible and what really wow's them…
So, you run a few Google searches but only get some blog posts with practice questions… but you're having trouble finding anything that really walks you through the entire process.
What if you could hear directly from a nursing leader and nurse educator who have interviewed hundreds of applicants?
What if you could hear what they really think?
What if you knew exactly what to expect, how to navigate the interview with confidence and poise while showcasing your authentic skills, and how to structure your resume?
What if you could watch a video example of a terrible, so-so, and an amazing interview?
Don't make this common nursing student mistake

Look, so many new grad nurses work under the assumption that the hospitals who hire them expect them to walk onto the nursing unit with the knowledge and confidence of an experienced nurse.
After all, you did just graduate right?
You just learned how to do all of this, didn't you?
Let's dispel that myth right here, right now: Hiring manager and nurse leaders know newly licensed nurses are not ready to fly solo upon graduation. They don't expect you to simply get a tour around the unit and know how to handle a full patient load.
Forget trying to fake it til you make it. They see right through that.
So… if you don't have any nursing experience, haven't even graduated from nursing school, and don't even have a license yet - what do you talk about in an interview?
What do you even put on a resume in the first place?
How do you even begin to figure this all out… especially when you're so busy with trying to get through school in the first place?

Introducing the FreshRN® Nursing Resumes & Interviews Course
The self-paced online course for nursing students looking to land their very first job right out of nursing school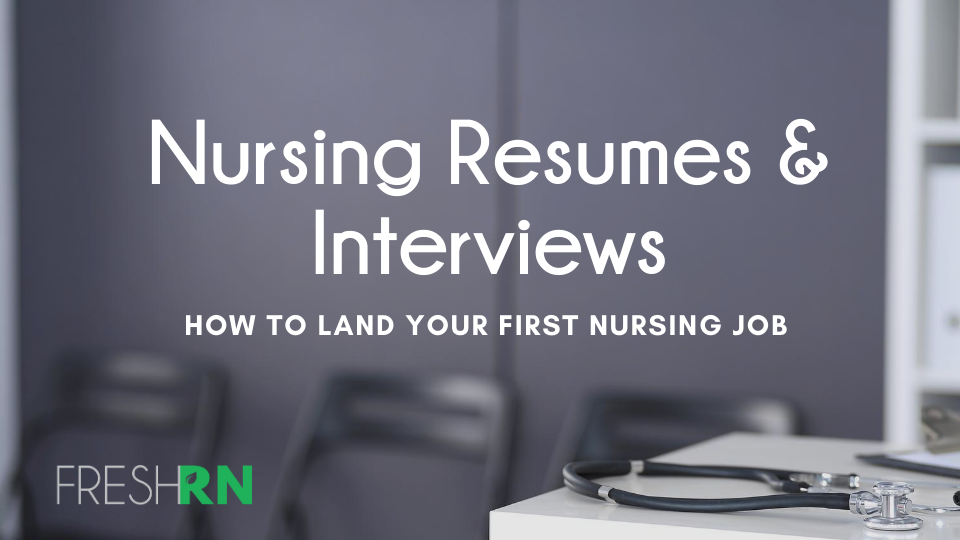 With the FreshRN® Nursing Resumes & Interviews course, here's what you'll learn:
When to actually begin your job hunt and where to look
Incredibly important considerations to keep in mind when deciding which healthcare organization to submit an application for
An overview of the entire hiring process for graduating nursing students who do not yet have their nursing license, from the time you submit your application to accepting an offer
How to juggle multiple job offers
What a cover letter is, is not, and major mistakes to avoid
The absolutely crucial aspects of a new grad nurse resume
How to structure your resume - so you can stop guessing and start writing!
A resume template built specifically for entry-level nurses - plug in your own information and be ready to roll!
A video example of a hire-me-now resume and why it is so impressive
A video example of a cringe-worthy resume and why it would probably head straight to the trash
What to expect in an interview from start to finish
How to prepare for an interview - including what to bring, what to leave at home, what to wear, and (more importantly) what not to wear
Tips to rock a video or phone interview
Video examples of a terrible interview, a not-so-memorable interview, and an "We've got to hire this person now!" interview - with additional videos explaining what made them bad, eh, and amazing
How to follow up with confidence and care
What you can do before you graduate to make yourself more marketable and land the job you've worked so hard for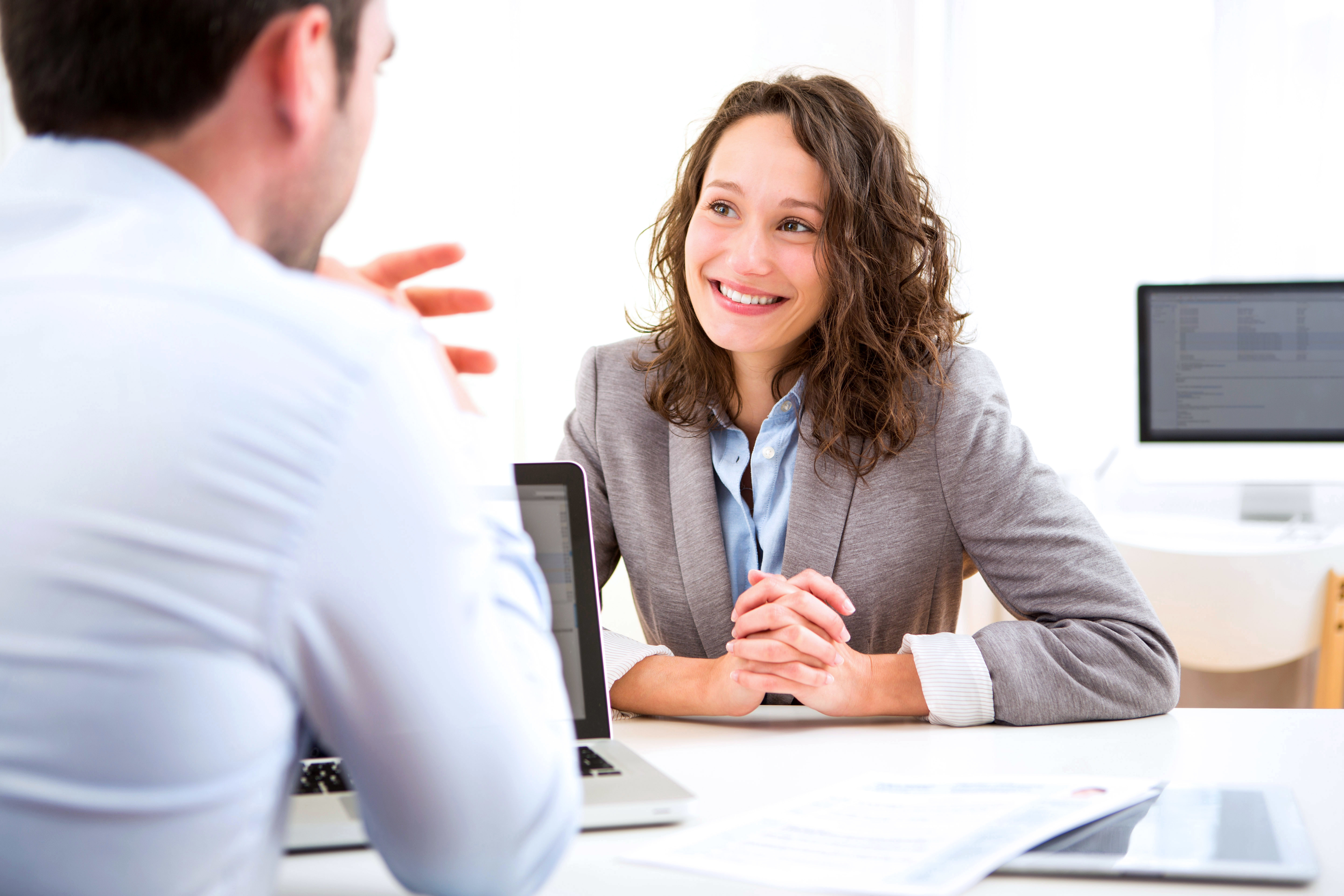 Meet Your Instructors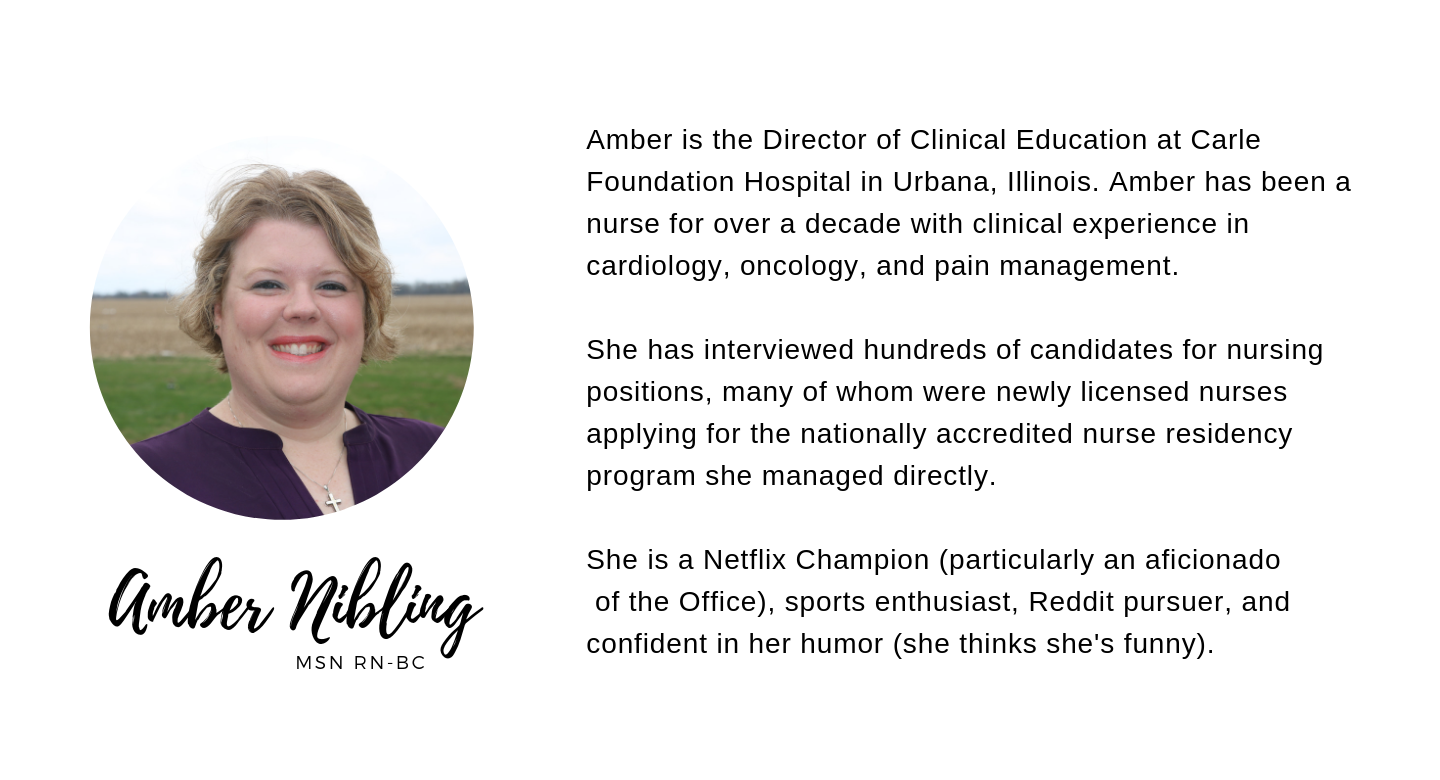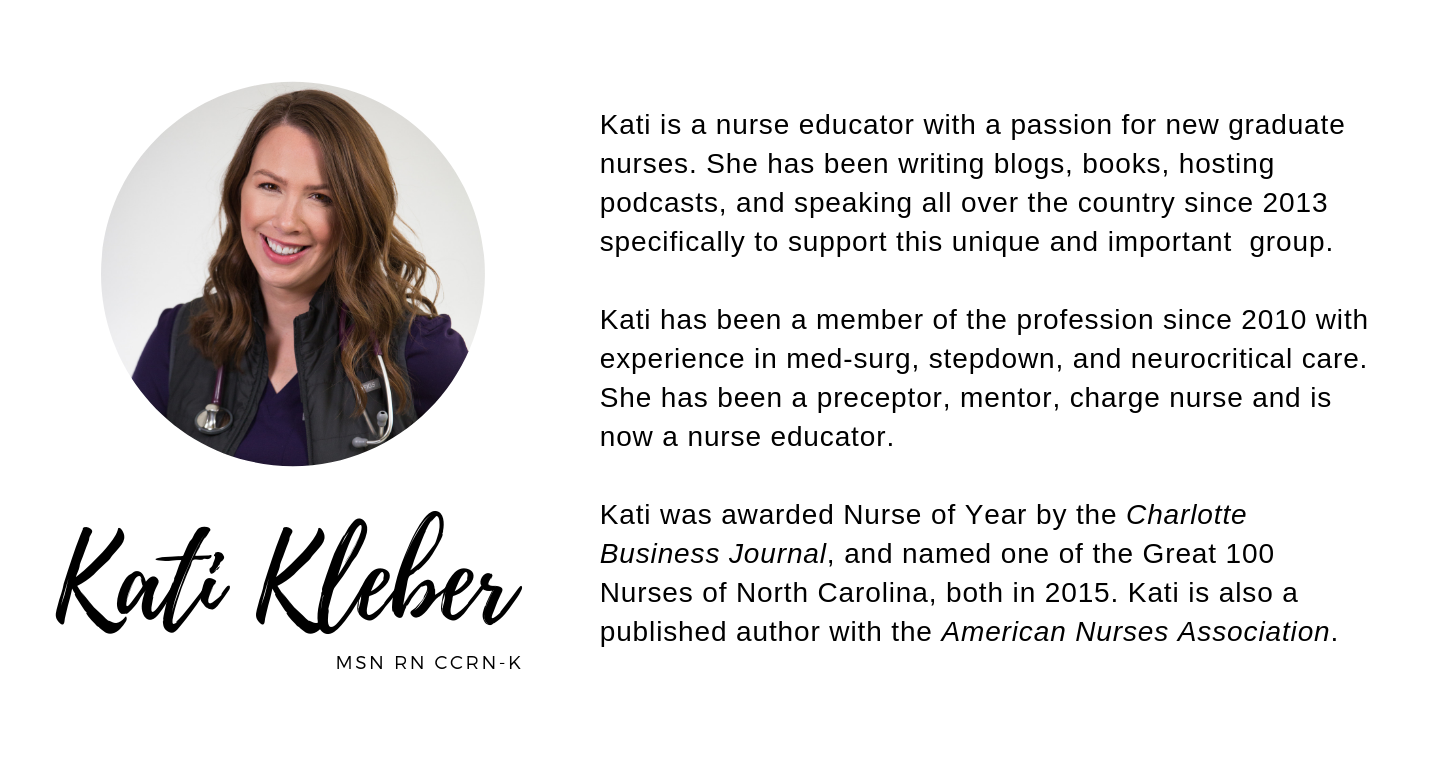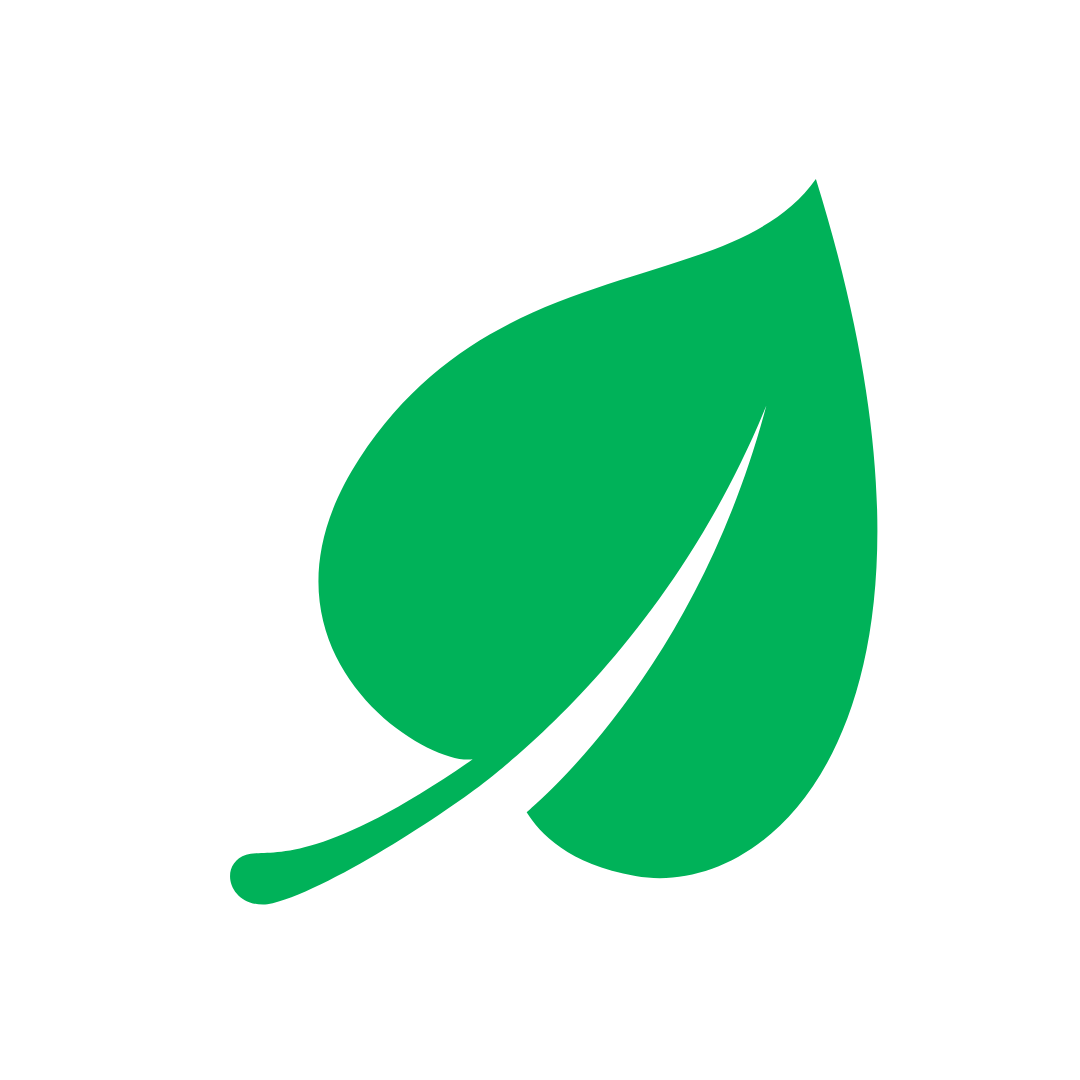 "Your interview course helped me land my second DREAM JOB! I actually have 7 years experience but it has been 5 years since my last interview. I know your books helped me get my first dream job in surgery, so when I went back to review them I found your new course. My new job offer is for my first-choice company in my first-choice location and my first-choice schedule for the salary I asked for. Not to mention other positive perks; I am in complete shock. HOW DO I SAY THANK YOU! Maybe all of that information is available somewhere in google land, but I did not have much time to prepare and your course gave me all the fine-tuning and comforting I needed, from researching facilities to understanding the purpose of the behavioral questions, to the exact wording of thank you notes. It absolutely made a difference for me."
- Stephanie M.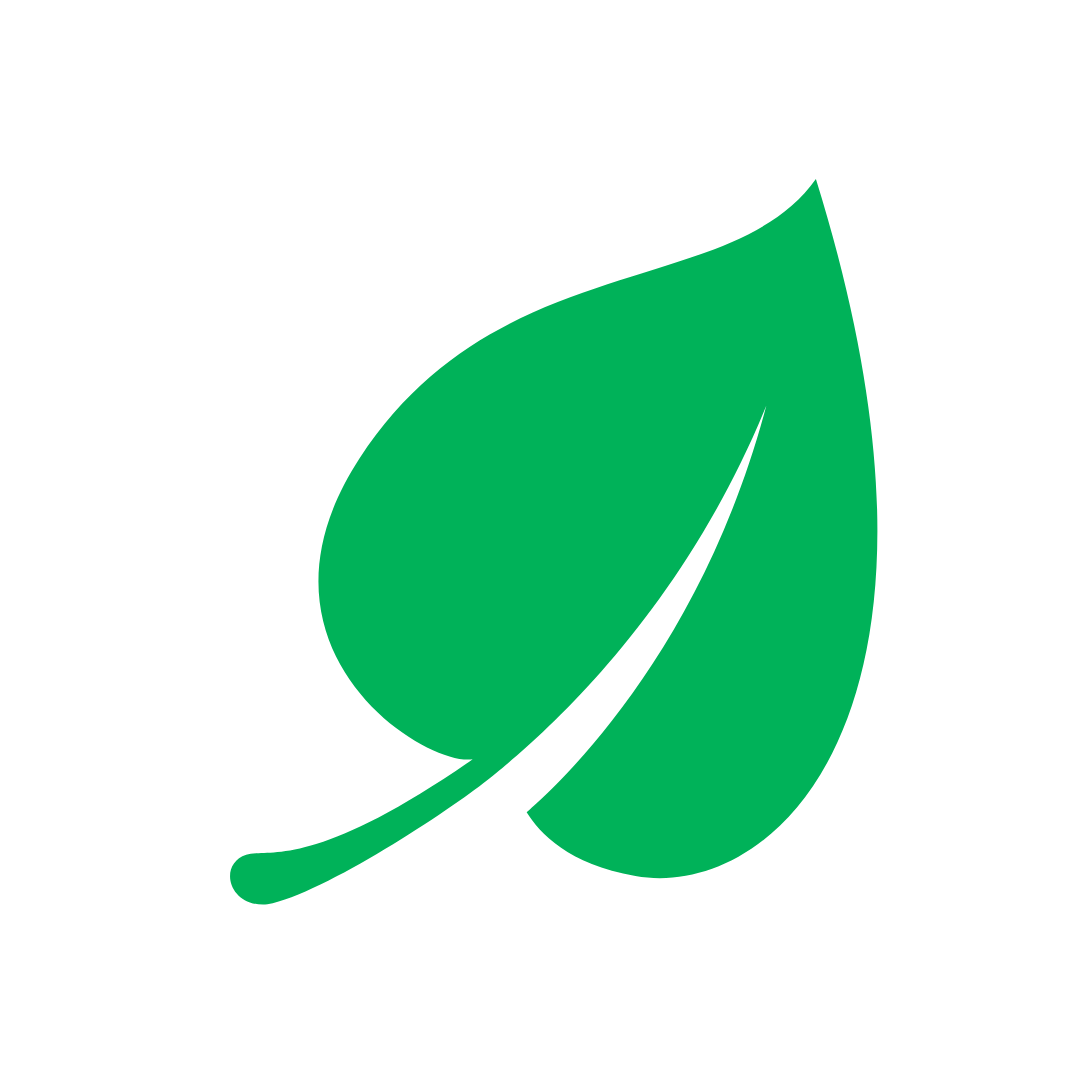 "Thank you for all your tips you share! I purchased your resume and interview course and it was very helpful in writing my resume and cover letter."

- Julie A.
Try the FreshRN® Nurse Resumes & Interviews Course for an entire 30-days, risk free.
If you don't love this course, I insist you get 100% of your money back. Let me tell you why.
Amber and I put our heads together and thought of everything we thought graduating nursing students must know to land their first job out of school. While I've interviewed some, Amber has interviewed hundreds (if not over 1K).
That's a ton of interviews.
That's a ton of resumes.
Since graduating nursing school in 2010, while I've conducted some interviews myself, I have sat in on many peer interviews. I've heard the immediate feedback from fellow nurses about candidates. I've had my own impressions and thoughts and have heard the honest and uncensored thoughts of other professional nurses as they evaluate candidates.
Amber and I have both also been through the process ourselves. We know the unique thoughts and feelings of the exhausted and overwhelmed nursing student who just wants to pass boards and get a job.
This isn't theoretical or general good ideas to consider. This course is jam-packed with real, actionable, direct, and practical steps you can take to get that job and move on with your semester.
Needless to say, we're very confident in this course and the value it provides to any graduating nursing student.
My simple offer is this: If you don't LOVE this course, I'll give you 100% of your money back with no questions as long as you request it within 30 days.
You can go through the entire course and if it's not translating to a deeper understanding of what you need to do to set yourself up for success and land that first nursing job - I will absolutely give you your money back.
The only requirements for refund are:
It must be requested and issued within 30 days of purchase (please allow 2-3 business days for processing refunds)
Less than 50% of the course has been completed
You have not claimed the continuing education credits
All you need to do is send one email (listed in the course) and that's it. No phone call. No awkward conversation requiring you to explain anything. No questions asked. One email.
See below for a preview of the full curriculum
And click on "Preview" to check out a module!

Course Curriculum
Introduction
Available in days
days after you enroll
Mindset
Available in days
days after you enroll
Job Hunt
Available in days
days after you enroll
Frequently Asked Questions
When does the course start and finish?
The course starts now and never ends! It is a completely self-paced online course - you decide when you start and when you finish.
How long do I have access to the course?
How does lifetime access sound? After enrolling, you have unlimited access to this course for as long as you like - across any and all devices you own.
What if I am unhappy with the course?
We would never want you to be unhappy! If you are unsatisfied with your purchase, contact us in the first 30 days and we will give you a full refund. The only refund requirements are: The refund must be requested and issued within 30 days of purchase (please allow 2-3 business days for refunds to be processed), less than 50% of the course must be completed, and the CE credit cannot be claimed.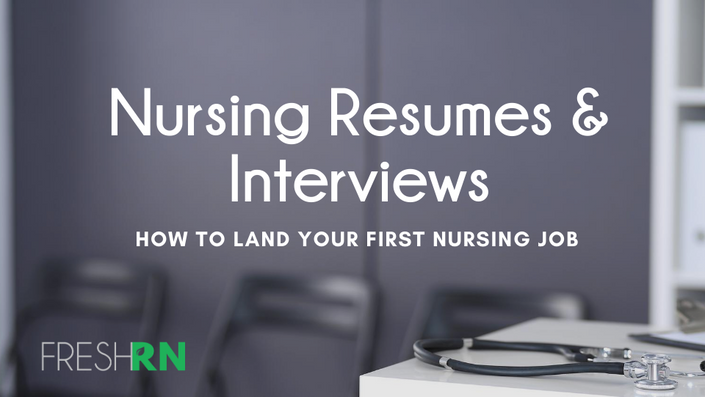 Nursing Resumes & Interviews
How to Land Your First Nursing Job